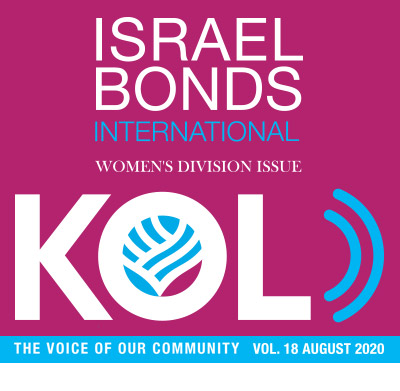 Women's Division International
The View from 2030

Laura Orzy, Chair,
Women's Division International
I'm sitting at my desk in Israel on this beautiful August day in 2030, having just finished an exhilarating quarterly International Women's Division Council call, during which we heard reports from all 62 cities where we are active.  I'm thrilled that total sales through Women's Division International just reached a new all-time high!
Back at the turn of the last decade, in 2019/2020, Women's Division International was effectively a start-up venture. We had
just launched or re-launched in a handful of cities in the UK, Europe and Latin America.  Our vision at that time was bold - some might have said audacious.  But the purpose and passion volunteers and staff alike brought to our work has made our precious Women's Division International a model of engagement and next-generation leadership cultivation.
I suppose you'd like me to let you in on our secret.  To what do we owe the success of this past decade? First, we were careful to recognize that each community in our Women's Division International was unique, imbued with the culture, language and socio-economic challenges of its host country.  Some had elements in common, and some did not, but each 'tile' in our mosaic was of equal importance to the big picture, so that, despite their differences, each had the same overall goal:  to increase the number of women investors in Israel Bonds.

Another powerful driver in our success?  Let's face it; women the world over have always been important caretakers of the continuity of our Jewish culture, they have demonstrated leadership and influence over financial matters in the home, and been staunch supporters of Israel.  Now, marry these truths to the natural inclination of our women leaders to reach out to the next generation to ensure that continuity, - l'dor v'dor - to instil in tomorrow's leaders the passion that each of their more established counterparts has exhibited in support of Israel. With this in mind, we begin to understand how the interesting, exciting and intellectually stimulating environment Women's Division International has fostered was instrumental in realizing the bold (audacious) goals I referred to earlier.
What a joy that women, both Jewish and non-Jewish, from communities across the world have connected and bonded over their common passion for the State of Israel.  Looking back, the pandemic of 2020 fundamentally changed the way we conduct business.  In a matter of weeks, we shifted to online programming instead of in-person. In the decade since, through new and emerging technologies (many of them invented in Israel!), the world has become even smaller and it has become easier for all our Women's Division communities to come together at the same time. Our mix of online and live gatherings, including our one-of-a-kind Israeli delegations, reinforce the friendship, camaraderie and feeling of belonging to a wonderful 'club'.
Women's Division International is a gathering place without borders, where we continually exchange ideas and best practices.  Our annual gala has become one of the most anticipated events on our social calendars!
From those early years, Women's Division International built upon the best ideas and practices of the American and Canadian Women's Division and added the unique cultural inflections of UK, Europe and Latin America.  Our cultural and linguistic diversity has in fact proven to be a most helpful asset.
Our expressions of love for Israel and her people continue to come from the heart, and to drive the productivity, creativity, engagement, and growth of Women's Division International.
Photo Credit: Laura Orzy