My best vacation in Israel (2012)
By Lena Reker from our office in Frankfurt, Germany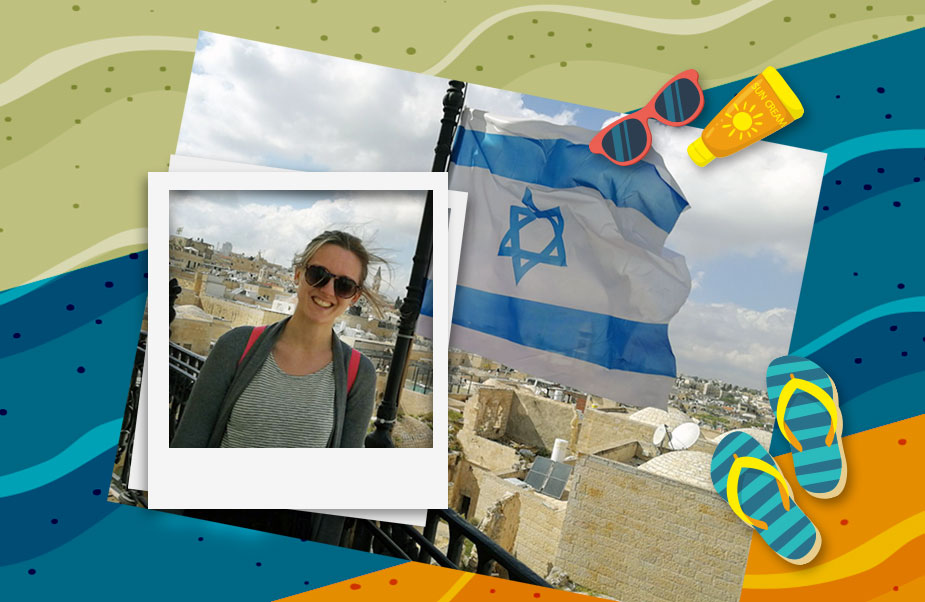 Graphic items Designed by Freepik
"Jerusalem has it all!"
When travelling to Israel, visiting Jerusalem is always something I look forward to.
The city is the world in a nutshell and surprises me time and again. Strolling through the Old City gives me the feeling of walking through history. Beginning with traces of ancient times over the Crusader period to the modern history of the state of Israel – everything is just an eye-blink away.
The connection between past and present you feel everywhere in Israel is the strongest in Jerusalem.
On my first visit, I didn´t know where to look first, the colors of the market stands, the sun glistering on the Jerusalem stone and the winding narrow streets were overwhelming.
Making my way towards the Kotel I passed by churches and mosques. Jerusalem and its meaning for the three monotheistic religions gives the city a special atmosphere, somewhere between peaceful and holy on the one side and tenseon the other side.
Getting lost in Jerusalem´s Old City is one of my favorite experiences in Israel. Although, you can only get lost when you have a certain point you want to reach.
I couldn´t say what I was looking for, I just drifted between groups of pilgrims from all over the world, as well as American Birthright groups. But I am very happy with what I found along my way, be it religious sites like the Kotel or the Holy Sepulcher, food like falafel and pomegranate juice, or people like the Armenian monk I met or the shop-owner selling funny t-shirts– Jerusalem has it all!
Photo courtesy of Lena Reker