Celebrating a Bar-Bat Mitzvah with ISRAEL BONDS
A MOMENTOUS EVENT IN A CHILD'S LIFE IS THE PERFECT OPPORTUNITY TO SPARK
A LASTING CONNECTION WITH ISRAEL.
When children have a bar or bat mitzvah, they bond with tradition and history.
They also have an opportunity to connect with Israel – a source of strength, pride and identity for all Jews.
A tradition for almost 20 years in Canadian Jewish Day Schools, the Bar & Bat Mitzvah program gives students the opportunity to receive Israel bonds as a gifts from their classmates, starting them off in their new adult lives as owners of a piece of the State of Israel.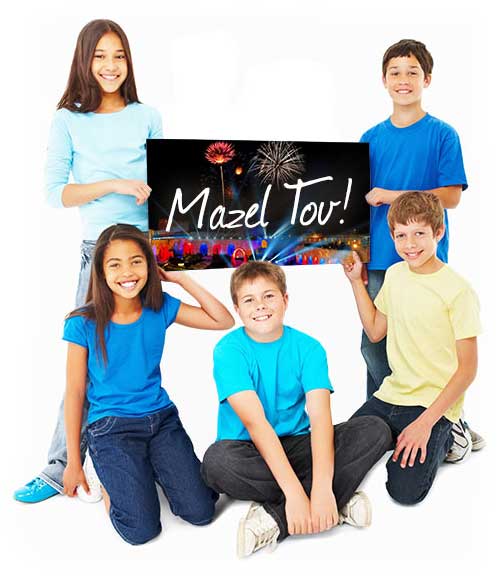 Linking a Bar & Bat Mitzvah to the mitzvah of Binyan Ha'aretz — Building the Land of Israel — has proven to be an idea that has grown in popularity over the years.
Young people who participate in this program often share their pride in knowing that owning Israel bonds is partnering with a nation that is pushing the boundaries of life-saving innovations in hi-tech, green-tech, clean-tech and biotechnology.
We are proud to share that the Israel Bonds Bar & Bat Mitzvah program has taken off in Germany.  On the 24th  of November, during the German Israel Congress, Rabbi Avichai Apel, the Chief Rabbi of Frankfurt, announced that the Jewish Community of Frankfurt will purchase Israel Bonds for each of the B'nei Mitzvah children.

We hope that this success will map over to other cities and communities in Europe.