Barbara Dingle: Investing in Israel Bonds – "Putting your money where your heart is".
As a bible-believing Christian with a deep love, respect, and reverence for the Jewish people and a passion for the State of Israel, I'm delighted to help promote the State of Israel Bonds.
My interest in Israel started with an inspirational Scripture Teacher in my school days, followed by attending Christian Summer Camps in my native Worcestershire where I was further encouraged to stand with Israel and the Jewish people who have given us everything we hold dear.
For the last decade or so, I have enjoyed working for wonderful Jewish people, in a Family Office in London's Mayfair. Coupled with this, I am also happily involved in my spare time with other Israel-related charities and projects spanning both the political and Jewish-Christian sectors.
As a member of the UK's Campaign Council of Israel Bonds, my primary role is to reach out to the Christian community. Friends and contacts, knowing I work for a Family Office with strong Israel links, often ask me how they too can invest in Israel. I have no hesitation in telling them about the Bonds! I love to point out the £100 Mazel Tov bond for celebratory occasions such as birthday, Bar/Bat Mitzvah, Christmas presents etc. larger investments for those wanting to put their money where their heart is and of course larger still for institutional investors.
Although I have now been to Israel many times, my visit with the Bonds Delegation for Israel's 70th Birthday last year was a great privilege and definitely one of my best trips.  It was wonderful to connect with the Bonds Family from around the world, united in supporting Israel through investing in Bonds.  As for interesting people and places, I soon discovered that the Bonds have unrivalled access through their connection with the Finance Ministry, and it was a great honour to go to hear both President Ruvi Rivlin address us in his residence and also PM Netanyahu in the Prime Minister's office.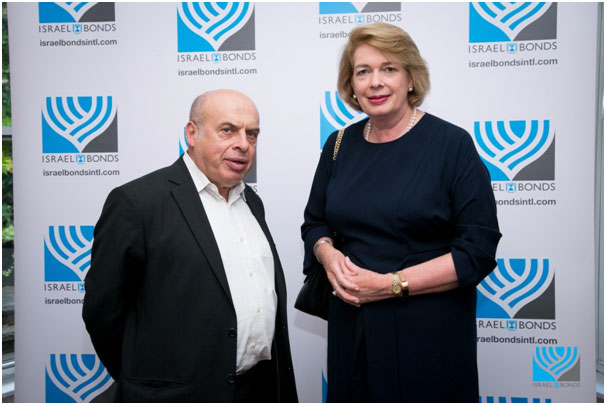 At a Bonds event in London with Natan Sharansky former refusenik and until last year, Chairman of the Jewish Agency. 
I must stress the difference between supporting Israel-related charities compared with the Bonds which are, of course, not charitable giving but an actual investment - An investment in Israel. As well as having attractive interest rates, there is nothing like appreciating the underlying encouragement they give to the Jewish State.  The more investors, the more Israel is encouraged.  Everyone counts - even the smallest investor.
With the sad rise in anti-Semitism and BDS here in the UK, what better way of combatting this by investing in Israel though Israel Bonds, which is the opposite of divesting.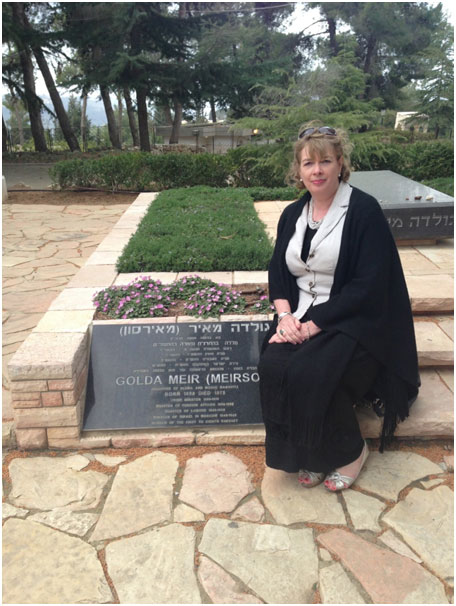 At the graveside of former Prime Minister Golda Meir – a forerunner in raising funds for Israel.