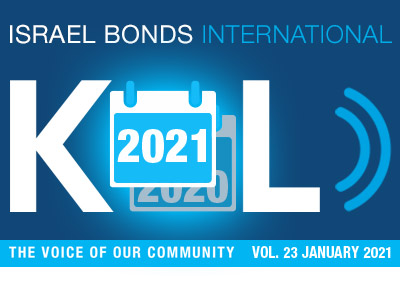 Looking Forward to Having the Pandemic Behind Us!
Michael Grauss
Executive Director of Germany
Israel Bonds Germany

The German office was chosen to become the new headquarters for Israel Bonds within the European Union after the formalization of Brexit. We have established a German company and secured the necessary license from the German Federal Financial Supervisory Authority (BaFin). For our clients, nothing will change, except that from now on, our company is licensed and regulated by BaFin and operates in the European Union under the new name of Development Company for Israel (Europe) GmbH. 
The year 2020 was truly an exceptional challenging one for all of us. Thankfully, our families were not hit by the coronavirus, but we all suffered from not being able to visit our families or to celebrate all the different festivities during this year
with each other.
In terms of business, we had a very good year and surpassed our goal of bond sales by almost forty percent, even though our sales target was set higher by fifty percent for 2020
compared to 2019.
The personal approach is one
of our strengths when it comes
to sales and the expansion of our customer base 

Unfortunately, we could not meet people in person, and the personal approach is one of our strengths when it comes to sales and the expansion of our customer base. Despite that difficulty, we managed to increase the number of purchasers, transactions, and bond holders in 2020.
All those great achievements would not be possible without our outstanding German team, and I want to thank them for their great work and dedication. Well done!
I am very optimistic about 2021 when it comes to slowly getting back to the life we had before the corona pandemic. Since every country has started to vaccinate its population, I am very positive that by the end of the year 2021, we will have the pandemic behind us and that by the second half of the year, we might be able to meet again and even host events with physical attendance. I can´t express how much I´m looking forward to this after more than ten months of crisis mode!
Israel is the first country to come out of this crisis by planning to have its population vaccinated within three months

Israel's economy was hit very hard by the consequences of pandemic, but it is also the first country to come out of this crisis by planning to have its population vaccinated within three months. The Israel Bonds organization stood side by side with the State of Israel during this challenging year, and with the help of our investors, friends, and supporters, were able to lend a helping hand. Israel Bonds continues to remain a solid investment in one of the world's most remarkable countries.
In 2021, let us continue to work on behalf of the State of Israel by actively supporting it with an investment with meaning. Since the crisis is not yet over, and no one can foretell when it will end, we have the chance this year to demonstrate once again our support for the Jewish homeland.
I am looking forward to meeting colleagues and clients in person again and hope we will all stay healthy until this pandemic is over.
Looking Forward to a World without Masks!
Eyla Benedykt
Brazil Representative
Israel Bonds Brazil

A new year is a new beginning: an opportunity to start with new energy, and this year in particular, we can begin with much hope, and a clearer look backward in order to make 2021 a more productive and healthy year both personally and professionally.
In 2020, we learned to value health and family even more. I also greatly appreciate the privilege of working in a company that values and cares about its employees. I remember that early in the pandemic in Europe, when there was still no pandemic in Brazil, we were told that we were all to start working from home, something that has continued to this day.
It was a gesture that, at that moment of fear and doubt, filled me with courage

In May of last year, I was so touched to receive at my home a  small gift sent to all Bonds employees worldwide, with a letter of thanks for our effort and dedication, signed by Israel Bonds President, Mr. Israel Maimon.
It was a gesture that, at that moment of fear and doubt, filled
me with courage.
2020 was very difficult for Brazil, but it taught us a lot...
My family started 2021 with a Zoom call with my parents. Since they live in Uruguay, I haven't seen them for more than a year due to the pandemic. But it was a happy virtual visit because we are all healthy. Despite the difficulties and times of uncertainty that we will face, my expectations are optimistic for Brazil and for the world.
I hope that in a few months, with the beginning of vaccinations, the pandemic in Brazil will become controlled, that young people will be able to return to their schools and universities and that our daily joys will return.   I especially look forward to the gradual return to hugging and kissing, something very characteristic of the Brazilian people!
An example to the world

We know that we have a difficult path for our economy to resume its pre-pandemic levels, but despite the high dollar and the devaluation of the real--our currency-- I am confident in the recovery.
Despite these difficulties, 2021 also promises to be a magical and life-filled year for Israel Bonds, as we celebrate the 70th anniversary of the issuance of the first Israel Bond by Prime Minister Ben Gurion.
Who knew Israel would become the power it is today--a nation that is among the first to vaccinate its population against COVID-19, serving as an example for the world? Israel owes many of its achievements in part to all those who have continued through the years to support the state through Israel Bonds.  This year, as soon as possible, I want to personally meet all the supporters and friends of Israel Bonds, and once we are all vaccinated, invite them to face-to-face events and to the International Delegation. But while that is still not possible, we will continue to meet virtually at various online events, including those of the Women's Division, and the New Leadership Division. 
I wish you all a 2021 filled with health, happiness, resilience and prosperity! A year in which the world can go back to being without masks!!

Jonathan Touboul
Executive Director of French Speaking Countries
Israel Bonds France
One of our famous texts typically read at Rosh Hashanah
wishes for the end of troubled times so that a better
stage can start. 
This passage comes to mind because It is amazing to witness a vaccine being distributed to populations at the end of the 2020 so that 2021 can start with renewed hopes.
Recent stock market trends reflect this optimism, as does a recent publication of the Organization for Economic Co-operation and Development, the OECD, whose outlook for the world economy points to strong growth for 2021 and 2022. There is new viability to international trade and world production, and the predicted economic recovery is also based on strong demand, which has been at half-mast since the beginning of the pandemic.
More than ever, we need to find a balance between growth and redistribution

However, the optimistic report does issue some warnings: growth will be present, but it will not be uniform, meaning that some countries will find it harder to recover than others.
The OECD report also reiterates the importance of the economic support policies put in place and the need to maintain these safety nets. Indeed, the pandemic has increased inequalities, further weakening the socio-economic fabric. The social risk should therefore be monitored in the years to come, as doing so is one of the guarantees of a successful and sustainable economic recovery.
More than ever, we need to find a balance between growth and redistribution, between wealth creation and solidarity.
The year 2020 had the virtue of strengthening the ties within
the organization

The Paris office had a difficult year because France, and particularly the Jewish community, was very impacted by the pandemic, up to the point that community leaders have been speaking about survival issues for many synagogues.
Our team has not been spared either, but we hope to have a complete team back in 2021.
The year 2020 had the virtue of strengthening the ties within the organization, thanks to the great corporate culture present at Israel Bonds. Indeed, our solidarity, but also our willingness to achieve our goals, are the key factors of our resilience. And we remain committed to making an impact on society.
All the ingredients are therefore present to make the year of Israel Bonds' 70th anniversary celebrations one of renewal and a powerful signal of our vitality and determination... because we choose life!
Happy New Year to all of you, and L'chaim to Israel Bonds!
"Today is a gift of G-d, which is why we call it
the present."
Saul Kisel
Chief Financial Officer (International) / Executive Director of Mexico
Israel Bonds Mexico

"Yesterday is history, tomorrow is a mystery, today is a gift of G-d, which is why we call it the present." – Bill Keane
After an extremely challenging but successful 2020 that we now survey through our rearview mirror, we can sit back and analyze exactly what happened, what we did right and what we can improve.
Thanks to our corporate infrastructure, our office was able to go straight into a home-office working solution by March 13, 2020, and after almost a full year, we are continuing in that situation, safeguarding our staff´s health and providing uninterrupted service to our community.
Working at home presented many obvious challenges, but also opportunities. As we all learned to work and communicate remotely through now-familiar applications such as Zoom, Webex, etc. and to plan our days or weeks according to how many virtual meetings we had scheduled in our calendar, our office staff decided to dedicate ninety minutes every Friday morning to an e-meeting to talk with each other - our personal issues, family, hobbies, etc. We call it our weekly "happy-hour," with no drinks involved. By taking turns to discuss personal issues—non-work-related—that happened during our weeks, we have managed to break that imaginary barrier, to learn about what is going on in the lives of each of our colleagues, from home water filtration issues to a love of cats, old dog issues, new adopted dog issues, hobbies such as carpentry, cooking and the sharing of new recipes. Suggestions, recommendations, and advice flow generously, and I can see that these exchanges have brought us closer, made us more integrated as a team, and more united as an Israel Bonds family.
We were astonished at the number of projects
that were accomplished

Our Women's Division managed to fulfill their 2020 plans despite all the limitations that COVID imposed on all of us. As our national chair, Linda Abadi de Sirazi, was preparing the year-end activity presentation, we were astonished at the number of projects that were accomplished, and the listing of events that seemed so long ago, but  happened only a few months previously,  such as our conference by Nitsana Darshan Leitner – Bankrupting Terrorism One Step at a Time, the International Woman Division Delegation, communication workshops, the Yesod Haolam project, reporter Damian Pachter´s conference on the Nisman ordeal in Argentina, the Jewish school´s chocolates project, the Hanukkah candles swag, made by hand, and so much more!! And after reviewing the Women's Division 2021 projects initiatives, I can only say THANK YOU! Thanks to your support and dedication, I know that 2021 will be even greater.
As Roy T. Bennett once said, "Never lose hope. Storms make people stronger and never last forever." I look forward to a great new year as we celebrate Israel Bonds' 70th Anniversary – seventy wonderful years of bonding with the State of Israel.
Navigating the Uncertainties of 2021
Joe Ozer
Executive Director of United Kingdom
Israel Bonds United Kingdom
Personally, 2020 was meant to be a year full of expectation and excitement. The plan was to get married, buy a house, and go on my honeymoon. At work, there was a full-on schedule of events in London and the regions, as well as plans for Israel Bonds to take the next step in our growth. Unfortunately, with the COVID-19 pandemic hitting, plans changed both personally and professionally.
two separate plans for the year—one virtual and one physical…

The year 2021 has started with the same expectations and excitements; however, it is mixed with many worries and fears. Talk of marriage is paired with worries about being out of this pandemic in time to celebrate! The firm's plans for 2021 have been just as difficult for us to navigate. Without knowing when we can meet our clients and hold events, we have had to strategize almost two separate plans for the year – one virtual and one physical, so that we would be able to act on whichever is safer and more appropriate at any given time. 
Israel Bonds always puts the client's well-being first, and with that in mind, we still have many goals that we must achieve this year. A top priority for The State of Israel is the diversity of Israel Bonds clients. This year, our challenges are to increase communal engagement, solidify our Women's and Christian Divisions, and to make huge strides with New Leadership so that we can secure the future of our organisation, which is so dependent on its lay leadership. Orit Usharovsky, in charge of our Women's Division, said of her plans for this coming year: "I am looking forward to continue developing and expanding the connections of the UK Women's Division of Israel Bonds. Our aim is to develop innovative programs and events aimed at empowering local women while strengthening our ties to Israel."
This year will be a big test for all of us in the UK, both professionally and personally. Stay safe, keep up your health and happiness, and remember that this too shall pass.