We Care About Each and Every Investor
by Michael Grauss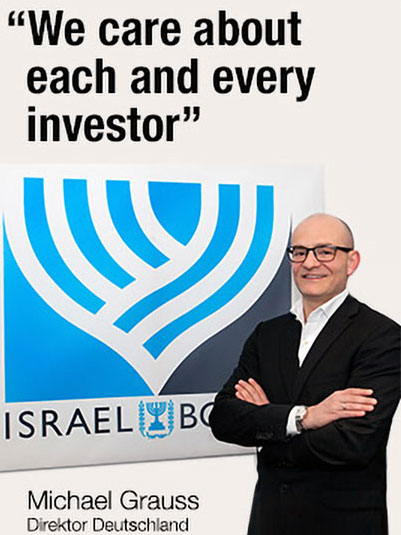 I joined the Israel Bond family in July 2016. It was a privilege to be hired as the director for Israel Bonds in Germany and to have the opportunity to further develop activities that have been running here since 1956.
In so many ways, it is the most meaningful assignment and mission we can be part of – and I write on behalf of both myself and my team.
During the past few years, our customer base has doubled in size. We care about every client, at whatever level they can invest in. Each investment, no matter the size, makes the bond holder a direct partner in Israel's extraordinary success.
Indeed, we offer a special product that is more than just an investment: it is a real commitment to stand by Israel's side and support this land and its people. It is the opportunity to invest in a country that has created so many innovations that improve life in Israel, in the region and around the world. It's about being connected to like minded people. We help support Israel and in so doing, we support each other.
Israel is a diverse nation, as are the people who invest in it with Israel Bonds. For every group that is motivated to stand with Israel, we look for ways to introduce ourselves, make a friendly connection and deepen our many friendships.It is our firm belief that a personal approach is the basis for success in our work on behalf of Israel.  It's all about connecting and once that first connection is established, we start building a relationship. 
From members of our Jewish communities, to Christian Zionists, from engaged students to institutions and foundations. What unites our diverse customer base is a singular belief: that Israel is a country worthy of our collective love, admiration and support.
Becoming active with Israel Bonds gives our customers opportunities to attend events with exclusive, compelling content, and to network with professionals from a variety of backgrounds. Our new series, called the "Round Table", is a perfect example of these unique events, where topics of interest are discussed with experts in interesting venues. People who might not otherwise meet do so because of their involvement with Israel Bonds
Most importantly, the New Volunteer Leadership program in Germany offers young people access to a broad network, both professionally and socially.  The first meeting of our newly founded campaign advisory council of volunteer leaders will take place this year, which will carry on a valued tradition of volunteer leadership involvement, one of the most important cornerstones of our success.
All of us who work for Israel Bonds feel fortunate to be a part of this bigger cause. I am confident that, together, we will continue to build on the accomplishments of those who came before us and helped make Israel Bonds in Germany such a meaningful organization.