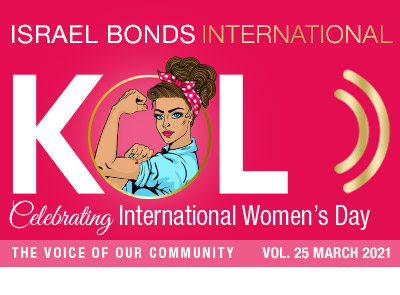 Israeli-born Efrat Roman is an entrepreneur, inventor, published writer and artist.  As the founder & CEO of EZbra, she points out, "Every year, women worldwide undergo thirteen million medical or cosmetic breast procedures and surgeries. Yet, there is no standard of care for dressing all those patients. EZbra is a patented, FDA-listed dressing designed to allow patients to recover in dignity." A single mother of two, Efrat was noted as one of the twenty 'most influential moms' by Family Circle Magazine in 2015.
Q: What is the added value for a company or organisation to be owned or run by a woman?
A: It depends on what company we are talking about. In my case, I work in FemTech and the EZbra is exclusively for women. I don't think a man could invent this particular product, as first-hand experience was essential to develop it.
Whenever we show the product to male surgeons, they wonder why nobody has thought of this before. The answer is because they haven't experienced what their female patients go through when they return home. 
I believe only women can completely understand the mental state and well-being of a cancer patient who has just lost her breast.  Losing or reconstructing one of the most feminine parts of the body has such an impact on a woman's sense of sexuality and femininity that the level of empathy required is very specific.
Q: At some point in their career every entrepreneur or CEO hits a wall. Do you think there are some general differences between the way in which men and women tackle these obstacles?
A: I think perhaps a woman's resourcefulness and creativity often generates a different perspective that can lead to more ways of working through the problem.
Q: Who were the female mentors that inspired you?
A: The Israeli, Hana Rado, whom I call Bat-Gurion, is the most inspiring and fearless entrepreneur I know. She has changed the world more than once, through job creation for women from the Negev to the North, founding female-led businesses in various arenas, and creating one of Israel's most powerful groups of women: Supersona. She has changed the conversation and the landscape of female representation and equality.
Q: In what way do you feel that the opportunities available to women in business have changed
throughout your career?
A: I often joke about the fact that I was always FemTech before the word was even invented.
As an entrepreneur ten years ago, most of the investors I generated were men who needed to understand what a women fighting breast cancer would need during chemo- and radiotherapy, including all the horrible side effects that impact as many as one in eight women.
Often. they would go pale and couldn't really absorb some of these details. which proved very difficult to deal with, even if, in some cases, what was being described was something their own wives were going through.
It felt wrong that I had to explain how hard it is to regain a sense of normality when fighting for your life!
There is a significant difference between male and female healthcare needs. Often, physical trials were based on a male experience and then altered for women, rather than being based on the female experience.
I think, aside from the more realistic trials that exist today, the major change between now and then is that male investors are more receptive to and understanding of the real needs of women who go through this experience.
Q: What advice would you give a woman starting her career journey?
A: Before you start raising money, use the time to fully dream your vision-- in flying colours. Only then, develop a business plan, so that the plan has as much integrity as possible before you expose it to potential investors.
Segment your business plan into phases. Start with something modest, that, step-by-step, will gradually enable you to realise your vision. After proving one concept, necessity and efficiency will be easier to understand.
Don't stop moving. It doesn't matter if the steps you make are small.  Just keep going!

Louise Jacobs
United Kingdom

Louise has, over the course of her career, spent time working in both the commercial and not-for- profit sectors. She started her career in the City of London, working on most of the UK privatisations. She then moved into venture/managed finance. In 2011, Louise changed directions, moving to work in the not-for-profit sector, where she was instrumental in navigating a merger between two cultural organisations. Over the years, she has been involved with many communal organisations and initiatives and is currently a trustee of both Spread a Smile and Work Avenue. In addition, she chairs UJIA, the largest charity in the UK connecting UK Jewry to Israel. Louise is now an executive and leadership coach, working with a number of individuals and organisations.
Q: What is the added value for a company or organisation to be owned or run by a woman?
A: Women can often add soft skills to an organisation. That does not mean they don't bring the technical capabilities needed, but they can also bring attributes like compassion, empathy, integrity and self-awareness. These attributes, although they cannot be measured, are critical, in my view, to running and leading a successful organisation.
Women can also show their vulnerabilities, as they are not afraid to say when they need help or when they are wrong! I think these attributes often make women excellent leaders.
Q: At some point in their careers, every entrepreneur or CEO hits a wall. Do you think there are some general differences between the way in which men and women tackle these obstacles?
A: I think women listen! They will listen to advice and then make up their own minds. I think they are also more likely to accept that hitting a wall may come down to their own shortcomings. Over my career, I have met many senior women who still invest in their own self-development. They are prepared to look at the reasons why there may be a lack of progress and work on their shortcomings. When I have hit a wall, I will talk to people, I will read relevant things, and I will try and honestly think through the reasons and go back and try again.
Q: Who were/are the female mentors that inspired you?
A: There is not just one. There have been a few over my career. Some of them have been very senior and others more junior. However, they have all demonstrated to me a courage in their convictions. I beleive that women should be in positions, whatever they are, because they are excellent at what they do, not because they are women. Women should be given the same opportunities as men, and what needs to happen, in my view, is that the environment should be such that women can work around family and other commitments, in a way that enables them to take advantage of the opportunities that they deserve. I think the pandemic has shown that flexibility can work. The women I have admired have made small changes, they have stood up for what they have believed in, and through good argument and tenacity, they have inched towards making a difference.
Q: In what way do you feel that the opportunities available to women in business have changed
throughout your career?
A: Since the start of my career, opportunities have increased dramatically. During my first role, I had to write my own maternity policy. I was the first female director in the organisation I worked in in the city. There were no real concessions to someone who wanted to start a family; this, quite rightly, would never be tolerated today. There are far more opportunities available now: flexi- and part-time work is available and there is a much greater understanding that women can have it all. When I was younger, it was definitely one or the other, and when women wanted something different from their organisation, then often they parted ways. This, again, would not be tolerated anymore. I am in my late fifties, so the changes have been immense. I can see from my own daughter's experience how the environment has changed.
Q: What three pieces of advice would you give a woman starting her career journey?
A: Don't be intimidated – respectfully disagree where you feel strongly about something. You are
in your role because you are the best person for the job.
Stand up for what you believe in – even if it feels like a small point. All these small points will add up – maybe it's as simple as changing a meeting time.
Don't lose your feminine attributes: don't be afraid to ask for help, don't be afraid to listen to advice and don't be.


Passionate about acrobatic gymnastics as well as communication since she was young, Diana-Paola Levy is a talented entrepreneur. After graduating from ISC Paris business school and from U. C. Berkeley, she started her career internationally in commercial functions, then became director of communication in the field of pharmaceutical laboratories and luxury goods. In 2008, she set up the subsidiary of one of her former suppliers who had become a client until its deployment and then its listing on the stock exchange. Following this experience, she founded DORinternational, a customized communications consultancy (events, media PR, image, strategy, digital web) for companies and managers. The consultancy's slogan is: "DOR: a spotlight to put you
in the spotlight!"
Q: What is the added value for a company or organisation to be owned or run by a woman?
A: Sensitivity: since women are more sensitive than men, they develop a more human relationship with the world of work based on people, their qualities and their potential.
But beyond this argument, several facts and figures tend to prove that the presence of women, especially in management positions, often means better economic health.
Intuition: Intuition remains instinctive and guides women leaders in their managerial style throughout their careers, thus developing an intuitive intelligence nourished by life experience.
In my opinion, intuition is a lever of influence. It also means learning to listen to oneself and to one's inner voice, and to trust oneself. Also, since women are more inclined to take a subject as a whole and consider all its facets, they often tend to anticipate problems with the desire to do well and finalise before presenting or proposing a project. Could it be the 'good student' syndrome? "
The sorority: it's up to us to 'play', we have all the cards in hand.
For some time now, a real groundswell has been brewing. As proven by a Harvard study, women are banding together and gathering in circles to bring out their power and happiness.
Thus re-energized, nourished by sisterhood, audacity and expertise, they are able to move mountains in
every-day situations.
One of the difficulties of managing a company as a woman is finding the right balance between consensuality and authoritarianism, which risks appearing castrating to male employees. It's up to us to decode these management styles and make management evolve "with No Gender Matter" by combining an iron hand in a velvet glove, to move forward together.
Q: At some point in their careers, every entrepreneur or CEO hits a wall. Do you think there are general differences between how men and women tackle these obstacles?
A: To be successful, women need to have faith in themselves and their projects. If they have doubts or little confidence in themselves, no one else will have it!
Any failure can undermine this confidence, even to the point of affecting one's self-esteem. To avoid this trap, many women develop a long-term vision of their project. They evaluate the costs and measure the risks.
Failures, therefore, act as powerful lessons and motors in the face of new adversity, and thus allow women to develop their own resilience.
For women, failure often signifies personal inadequacy, and they use it as a lesson, whereas men will find parameters for failure, often external to themselves, and they will even tend to feel less guilty. However, the words of Nelson Mandela remain my inspiration: 'either you win or you learn.'
Compared to men, women are 38% more likely to be emotionally sensitive at work. Whether they are calm and aloof or passionate, depending on the situation, women access their emotions more easily, allowing them to be considered more emotionally intelligent and empathetic. Women are often passionate!
Where men have a stronger preference for competition, women are more interested in stable situations. They declare that they prefer professional stability to professional evolution (+17%). This attitude reflects greater loyalty and fidelity to their company. They are more likely to make the most of their professional situations.
In terms of team spirit, women prefer to adopt altruistic behavior in the workplace (+14%).
They are also better mediators in conflict situations. Indeed, they are more likely to find common ground and are 13% more flexible than men at work. This greater ease in resolving conflicts is undoubtedly facilitated by their extraversion, which is 8% higher than that of men.
Q: Who were/are the female mentors who inspired you?
A: Simone Veil: An example of resilience
This woman has been a daily inspiration to me since I was thirteen years old. She was iconoclastic and non-conformist-- even revolutionary in some respects, and today we note that she was able to offer emancipation to contemporary women. A dignified, committed, militant woman, she knew how to create adhesion after having assumed and confronted her detractors.  A visionary, she remains for me a symbol of the independence of women
alongside men.
Today, it is impossible to think of women's rights without thinking of Simone Veil. She has become an intergenerational symbol of women's leadership and empowerment.
Christine Lagarde:
I admire Christine Lagarde for her ability to face her daily life by 'always smiling with clenched teeth,' whatever the situation. Her sports references have given me the desire to win and to always keep a sporting spirit with values of effort and performance. I also admire her ability to manage people.
Q: How do you think the opportunities for women in business have changed throughout your career?
A: The place of women in the workplace is a key issue, as it is through work that women gain financial independence, one of the pillars of equality. Real progress was made in the 1970s and 1980s; laws were passed, but professional inequalities between women and men persist.
Today, opportunities for women are identical to those for men, with key positions on boards of directors, department directors or non-sedentary positions previously reserved for men (sales director, regional manager, etc.). However, there is still no parity in the representation of women on boards of directors or in the salary gaps that still exist.
Q: What advice would you give to a woman starting out on her career path?
A: Remove the unconscious barriers that limit you! Women are less ambitious than men to start their own businesses. The main reason is the fear of failure (21% of women versus 15% of men).
Don't underestimate yourself. It is important that mentalities change and that women gain confidence in themselves.
Multiply it by Two. When you think about a goal, you will have a more accurate idea of what you are really worth!
Shield yourself by working on your self-confidence, develop your audacity and dare. 
Knowing how to surround yourself with people gives you a benevolent view, but also a precious expertise.
Be assertive by being yourself because 'the others are already taken.' You are your first ambassador.
It is through your strength of conviction that you will silence opponents and impose respect. And it is far from being innate, so work on it! You must know how to leave important room in your schedule for networking, for friendship, for pro bono commitment, for life, which often, I know, already overflows!

Silvia Cherem, journalist and writer, was awarded the National Journalism Prize, 2005 and is the chairwoman of the International Women´s Forum Chapter Mexico. On three occasions, she was a semi-finalist for the New Journalism Award of the Foundation for a New Ibero-American Journalism, founded by Gabriel García Márquez. She won the Mexico-Israel Cultural Institute Prize, the Anahuac Leadership Medal in Communication, and the Maguén David Women Prize. Those who know her state that she manages to lay bare the soul of her characters, that she has the sensitivity, intuition, and courage to ask what nobody else dares to, that she knows how to filter what is important, and to find the weave and common threads of a life.
In 1994, she started publishing serial chronicles, encouraging interviews and special articles of national and international interest on cultural, political, scientific, and social topics, in the newspapers of Grupo Reforma. Likewise, she has interviewed the leading figures of the recent history of Israel, such as Shimon Peres,  and the writers Amos Oz, David Grossman, AB Yehoshúa, Etgar Keret, and Zeruya Shalev,
among others.
She is the author of various books, among them, the political analyses: "Between History and Memory" (2000), "Strokes and Revelations. Interviews with Ten Mexican Painters" (2004), "A Life for the Word. Interview with Sergio Ramirez" (2004), "Final Exam. Education in Mexico 2000-2006" (2006), "To the point. Life and Vision of the Founders of Bimbo" (2008), "To the Left. Half a Century of Stories in Mexican Journalism told by Granados Chapa" (2010), "Israel by Four voices. Conversations with David Grossman, Amos Oz, A.B. Yehoshúa and Etgar Keret" (2013), "One Hundred Slices of Business Wisdom" (2016), "Esperanza Iris" (2018), and "That Instant" (2021).
She is the co-author of "Images of an Encounter". "The Jewish Presence in Mexico during the First Half of the Twentieth Century" (1992). Her interview to Octavio Paz called "I'm another one, I'm a lot", is part of volume 15 of the Complete Works of the Literature Nobel Prize.
Q: What is the added value for a company or organization to be owned or run by a woman?
A: The fight for A Vindication of the Rights of Woman is the great transformation, the revolution of revolutions, and obviously, I am referring to gender equality, to the imprint that women can leave in every sector under conditions where gender equality exists. In the pandemic, it became clear how different the economic and health management was in the countries governed by women. The performance of women who led their countries has been dramatically superior, and a possible explanation is that we have the need to show that we are capable of pushing ourselves ten times harder to show our value and capacity, to break the status quo. Besides, we are more flexible, more empathetic and, in general, we are used to keeping many balls in the air at the same time.
Q: At some point in their career, every entrepreneur or CEO hits a wall. Do you think there are some general differences between the way in which men and women tackle these obstacles?
A: We must try not to generalize, but in general terms, women are more flexible when searching for solutions to problems. We know how to listen. We know how to acknowledge things and change direction. We are more honest and committed. We make unrestrained efforts and do not shy away from the responsibility to turn the page
and start again.
Q: Who were the female mentors that inspired you?
A: I grew up in a traditionalist family of Judeo-Syrian origin, who went against the grain and believed in my education. They demanded from me "to be the best student," but also expected from me what was customary: be a wife, a mother, and a good housewife. Nothing else. That ambivalence— get educated to end up doing what was expected from women— made a lot of noise in my head. Additionally, I was not allowed to go to parties and get-togethers with my schoolmates. Being a woman and a Jew was a handicap. Fortunately, in my teen years, I was lucky to meet two women who were totally different from the prevailing model at home, and following their example shaped my future.
Let me elaborate: as I was a very good student, at school I was usually exempt from the final exams.  That meant I had vacations from May to September, four months that I used to start working. When I was fifteen, I was accepted at Mundus Tours, a travel agency. Its owner, Richa Rubinstein, built a thriving business when her husband went bankrupt. She was a liberal, hard-working, and visionary woman from whom I learnt a lot. She encouraged her husband to work with her and in this way, they were able to support their family. Rosita Presburger, recently divorced, extremely cultured, a co-creator of the Mexican security organization, Bitajon, also worked there. She was very close to Spanish refugees: poets, scientists, academicians, and artists that found in Mexico a place to flourish.
Both Richa and Rosita were role models for me, because they faced life as independent and creative women, very different models from those who lived at home. Both of them dazzled me and became lifelong friends.
Q: In what way do you feel that the opportunities available to women in business have changed
throughout your career?
A: Suffice it to say that my grandmother kept the diploma she was very proud of in her underwear drawer, between bras and panties, as if it were something shameful that had to be hidden, and that my husband's grandmother never learnt how to read and write. Times have changed and nowadays any woman who dreams and aspires to be an entrepreneur will find many more women who motivate her journey. As a journalist and writer, as the chairwoman of the International Women´s Forum Chapter Mexico, I can confirm every day with my peers that we can all break the glass ceiling. The sky is the limit.
Q: What advice would you give a woman starting her career journey?
A: My advice to you is that you never give up, that you throw yourself into your preparation with passion and discipline.
Photo credit: Lourdes Christlieb

Haya Molcho
Austria/Germany
Haya Molcho was born in Tel Aviv and moved with her parents to Germany at the age of nine. After graduating from school, she studied psychology. Since 1978, she has been married to Samy Molcho, with whom she traveled due to his work through India, Japan, China, Morocco and many other countries before they settled in Vienna. They are the parents of four sons. Haya, who has been cooking since she was a child, has only been in the catering business since 2003, when a neighbor asked her to take over the catering for one of her parties.
In 2009, she opened her first restaurant under the brand NENI (an acronym from the first letters of the names of her four sons: Nuriel, Elior, Nadiv and Ilan) on Vienna's Naschmarkt. The name reflects the Molchos' philosophy that the family – always eating with many friends at a large table—is an integral part of their life. In addition to this location, Tel Aviv Beach, and the Vienna Danube Canal, she and her sons now run restaurants under her brand in Berlin, Hamburg, Munich, Zurich, Mallorca, Cologne, Paris, and Amsterdam, in which the dishes focus on oriental recipes, especially Israeli cuisine.
Under "NENI at the table," twenty-five different products, including hummus, baba ghanoush and falafel are sold in 1.600 supermarkets, and NENI maintains a Europe-wide cooperation with the hotel chain 25hours.
Q: What is the added value for a company/ organisation to be owned/run by a woman?
A: Women bring a lot of strength paired with empathy and sensitivity into management and decision- making, which is extremely important for the health of the company as well as the people behind it. In my experience, multitasking and multilayered awareness are definitely critical attributes, as well as a lot of patience and trust towards our employees. These traits are in my nature, not only as a woman but also
as a mother.
At some point in their careers, every entrepreneur/ CEO hits a wall. Do you think there are some general differences between the way in which men and women tackle these obstacles?
When women see a wall coming, they react quickly because they speak about their problems more openly and confront obstacles. I have noticed women are more communicative with others in their surroundings and dare to ask for help when needed, while many men will often ignore issues and push things under the rug before working on themselves, communicating openly, or asking for help. I think that block comes from the societal stigma of what it means to "be a man" —tough, strong, not showing weakness. This is simply wrong and a stigma which I feel is slowly dissolving.
Q: Who were/are the female mentors that inspired you?
A: Alma Mahler-Werfel, who was a bonvivant. I was always fascinated by her willingness to break out of the ordinary and walk her own path.
Michelle Obama - she didn't stand behind her husband, she stood side by side with him through his presidency. She dared to step forward on issues close to her heart and to make a difference, showing such strength, intellect and willpower while always remaining down-to-earth. More and more women are daring to step forward, rather than standing behind men. Equality is important in society, and starts in our own homes. I feel Michelle really gave many women a lot of strength. 
Julia Child - I identify strongly with her passion and her career as a complete "Quereinsteiger" — a newcomer who broke barriers in the profession.
Q: In what way do you feel that the opportunities available to women in business have changed throughout
your career?
A: It has changed relatively to the positive, but I find it shocking that this is even still a topic and that we haven't reached the point of full equality yet in my lifetime. It has moved too slowly. The topic of equality and fair and equal chances in business lays bare a vast rift of differences across all countries of the world. We are still far
from full equality.
Where I live, in Austria, a situation we need to work on is that women in business who want to have children face difficulty in finding a job in the first place. As it costs the employer a lot as soon as a woman goes on maternity leave, many employers just won't hire her. This needs to change. But it's an expensive change, for which the government also needs to support employers to facilitate such changes. I believe we will reach a point of equal rights and opportunities; however, it is something we have to continue to speak out on and stand up for.
Q: What three pieces of advice would you give a woman starting her career journey?
A:  You should not feel influenced by the expectations of others. Rather, know what you believe in and are passionate about, and find confidence in your own path and decision-making. If we are always blinded by others' expectations, it gnaws on our confidence and our ability to stay connected to our instincts.
When you start a business, you are investing everything — time, money, private time, so you have to be resilient and disciplined in both your work and your mind. Do not expect to reap rewards immediately; you have to be patient. There are a lot of ups and downs and that is just part of life.
Do not take criticism personally. Receiving criticism is not the same as hitting a wall. Take criticism as an opportunity to learn and educate yourself, listen and learn to make changes, and don't be rigid in your mind. But do not let it affect your inner self. Train yourself to see criticism as an opportunity for growth. That's important for your mental health and resilience in business.

Claudia Sender is a board member of several listed companies and NGOs, namely Telefonica in Spain, LafargeHolcim in Switzerland and Gerdau and Yduqs in Brazil. She also serves on the non-profit boards of Amigos do Bem, Gastromotiva and Hospital Israelita Albert Einstein.
Prior to assuming her board positions, Claudia served until July 2019 as senior vice-president for clients at LATAM Airlines Group. Claudia joined TAM Airlines in December 2011, as commercial and marketing vice-president, and once the association between LAN and TAM was established, she became responsible for the Brazil domestic Business Unit.  Following that, she was appointed the CEO for LATAM Airlines Brasil in May 2013.
Claudia has also worked in the consumer goods industry, focusing on marketing and strategic planning. Prior to joining LATAM, she was marketing vice president at Whirlpool Latin America, where she worked for seven years. She has also worked as a consultant at Bain & Company, in projects ranging from telecommunications to airlines. She holds a B.Sc in Chemical Engineering from the Polytechnic School at the University of Sao Paulo and an MBA from Harvard Business School.
Q: What is the added value for a company/ organisation to be owned/run by a woman?
A: I believe in the power of bringing different points of view to any discussion to get to better and more balanced solutions to any problem. Women tend to be better at listening and including team members in the search for better strategies and solutions. Being an underrepresented group in top positions, women also tend to be more mindful of how to not only hire, but mainly include other minorities in the decision-making process. The pandemic management in countries led by women is a strong reminder of that. Female leaders have not shied away from taking difficult decisions after listening to many different stakeholders, and protecting their citizens as well as possible.
In addition to that, since women represent 50% of the global consumer power and talent pool, it is paramount to have their voices equally represented in the leadership of companies.
Q: At some point in their careers, every entrepreneur/ CEO hits a wall. Do you think there are some general differences between the way in which men and women tackle these obstacles ?
A: In my experience, women are less afraid to ask for help than their male counterparts when the feel like they've hit a wall. Society has fostered the myth of the all-mighty boss who knows it all and who doesn't need help - and this mythic creature tends to be strongly associated with male figures. This culture holds many men back when they are out of solutions, while women are less scared of appearing weak when bringing in others in the search for alternatives.
Q: Who were/are your female mentors that inspired you?
 A: My grandmother and my mother, for sure. The strength they have shown in raising our family, while at times also  being the providers, was always a very strong reminder that we can be anything we want. And that it is ok to switch roles in life every now and then.
Q: In what way do you feel that the opportunities available to women in  business have changed throughout your career?
 A: I have witnessed a strong change in peoples' and companies' declaration towards female participation in the workforce and leadership  over the years. There are fewer jobs for men only, and there is an expressed desire of having more women in leadership positions. That has opened the path for many of us women to engage more strongly with corporate positions and persevere to advance in our careers.
However, reality has changed very little. The numbers speak for themselves: although women comprise almost 60% of college graduates, we represent less than 5% of CEO or board chair positions. When we analyze funding for female-led start ups, the figures are even bleaker. Investors tend to trust way more in male than female founders.
Q: What three pieces of advice would you give a women starting her career journey?
A: Embrace the "butterflies in your stomach." It's ok to be a little scared of embarking on a new challenge.  Most people are not 100% ready when they take on a new responsibility.
Prepare! Make sure you are constantly learning through formal or informal education. The world is changing at a speed that requires us to keep learning and evolving constantly.
Build a network of women who you trust and who will be your springboard in life. They will comfort you when you need it, but also send you right back up once you're ready to fly!