ISRAEL MEIR LAU
CHIEF RABBI
TEL-AVIV-JAFFA, ISRAEL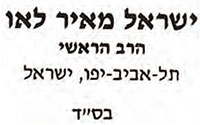 Dear Member of the Israel Bonds Delegation,

74 years after being liberated, the small child that survived Buchenwald is still present in me and understands how important it is for you all to be in Poland as a living testament to the strength and resilience of the Jewish people. As you will partake in the "march of the living" you will be the voices of so many who were not able to speak. To say never again with conviction and as a promise.
When I was eight years old in Buchenwald, there was a certain moment which shaped my entire life. We didn't know at the time that it was the last year of the war, and we were very depressed. I was among Russian hostages in Block No. 8, near the camp's gate. My brother, Naftali, who saved me when my mother threw me at him in an instant before getting on the train, and who brought me into the camp inside a sack, was in Block Ho. 59, among Jewish prisoners, and we didn't see each other.
"One day I was inside the block, and I heard my brother calling me from the yard beyond the fence. At first, I didn't recognize him. He was skin and bones, with serious typhus, and he said to me: 'Lolek, it's good to see you. You're a big boy now and I can talk to you straightforwardly. You know that we have no father, and mother is probably no longer alive either, and they are now taking me too and I have come to bid farewell. If you stay alive, you'll have no home to return to. Just remember one thing: There is a place in the world called the Land of Israel. It's our home. If they try to take you here or there, say: Only the Land of Israel. 
It will be looking forward to welcoming you in Israel and have pride that you choose to celebrate the home of the Jewish people and continuously support the State of Israel by your involvement in Israel Bonds.