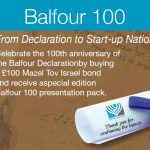 In an opinion issued in February 2016, Standard & Poor's*: stated,"We expect the Israeli economy to weather potential volatility in the global economy and international financial market, thanks to its diversified economy, strong external position, and flexible monetary framework."
In an opinion issued in February 2016, Standard & Poor's*: stated,"We expect the Israeli economy to weather potential volatility in the global economy and international financial market, thanks to its diversified economy, strong external position, and flexible monetary framework."
OECD Cites Israel's Consistent GDP Growth
In its 2016 economic survey of Israel, the OECD reports, "Thanks to prudent monetary, financial and fiscal policies, growth has exceeded most other OECD countries' rates for more than a decade. Employment is rising, inflation is low, the external surplus is comfortable, and the public finances are in relatively good shape." 
"An Attractive Global Investment Target"
An article in the December 11 issue of Global Finance declared, "Israel remains one of the world's leading technology and innovation hubs and an attractive global investment target, supported by prudent fiscal and monetary policies and a favorable macroeconomic environment."
Debt-to-GDP Ratio Continues to Fall
Israel's Finance Ministry announced the nation's debt-to-GDP ratio – one of the most significant indicators of a nation's economic well-being – dropped a "stunning" 64.9 percent last year. According to Israeli business site Globes, "The 2015 figures establish Israel as a country that has managed to lower its debt ratio more than any other Western country since 2008."
Israel's Economy is an "Incredible Example"
In a November 2015 essay, American Enterprise Institute research fellow Alex Brill wrote, "The Israeli economy remains an incredible example of a developed country's ability to achieve sustained economic growth."
*You must determine the suitability of an investment in Bonds according to your own circumstances, and you should only consider investing if you have sufficient knowledge and experience to evaluate an investment in Bonds; ie the merits, risks, and impact that an investment in Bonds will have on your overall investment portfolio. *