Pan European Round Table in Hamburg
Israel does research "for the good of humanity"
6 November, 2019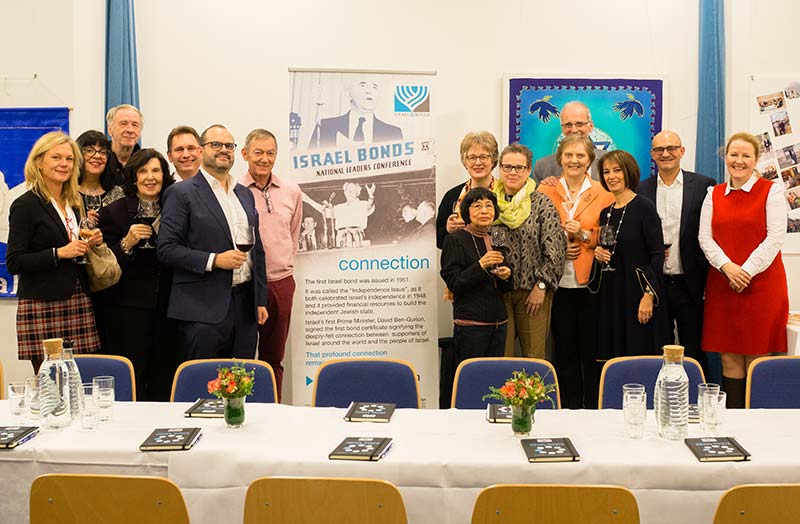 The fourth Israel Bonds Round Table in Germany, and tenth overall in the 2019 series, took place recently in Hamburg in the offices of Ebenezer Hilfsfonds Deutschland.
Featured speaker Daniel Schönberger, the Director of Resource Development for the DACH region of the Weizmann Institute of Science, spoke about the set of ethical principles that underly Israel's stature as one of the most innovative countries in the world.
The event in Hamburg was part of a Pan-European Round Table series that will conclude its 2019 run with an eleventh event in London in December.
"The motivation behind Israel's many innovations is its desire to do research for the good of humanity, said Mr. Schönberger. "The next scientific revolution will be triggered and driven by those scientists who have a multidisciplinary view of science, the opportunities to take risks, an infrastructure to work in, and the freedom to think. All this can be found in Israel."
"The Israel Bonds Pan-European Round Table events are unique opportunities to network and make connections with thought-leaders on a wide range of topics.  We launched this series in February of this year in Paris, and since then, have had the Round Table convene in Berlin, Dusseldorf, Frankfurt, Geneva, London, Lyon Munich, and now in Hamburg," said Arnon Perlman, Executive Director of International Sales and Operations in Europe and Latin America, Development Company for Israel (International) Ltd/Israel Bonds.
"The enthusiastic response to our Round Tables shows that people are looking for quality programming and opportunities to hear about insights directly from experts on a variety of topics, be they financial, sociological or political.  Israel Bonds is ideally positioned to access some of the best thought leaders and offer an intimate setting that fosters dialogue and an exchange of ideas.
"We will be announcing our opening Round Tables for 2020 soon," noted Perlman.
Photo by : Micha Drögemüller.