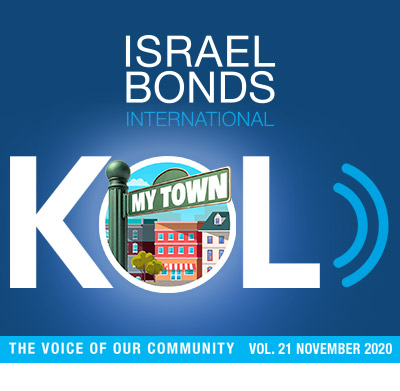 Bonding in tough times: What a difference one kiddush can make
The Israeli mindset regards problems as challenges and obstacles as opportunities to become creative! We often recognize this approach when we marvel through news in the media at yet another miracle performed by an innovative startup from the Holy Land. Fortunately, the same kind of can-do mentality works for Jews in Germany on a much smaller scale, too--for instance, after an Erev Shabbat service of my congregation, Sukkat Schalom, in Berlin. Due to the pandemic, kiddushim are currently not permitted inside the synagogue. So, Israel Bonds organized a drive-by kiddush for the people in Sukkat Schalom to take home.   
Where there's kiddush, there's community, warmth and life.

When everyone got their bags filled with delicious food, I could see in people's eyes that this idea from Israel Bonds made a difference. Because where there's a kiddush, there's community, warmth, and life. That night, we didn't just disappear into the dark after our service, as we had after previous services held during the pandemic. That night, we added a few seconds of social interaction--a welcome change that everyone enjoyed. And when people arrived home, they could enjoy their "Drive-by Kiddush."
To me that night was special for yet another reason. It was during a kiddush at Sukkat Schalom that I was invited to attend my very first Israel Bonds event, a breakfast with CEO Israel Maimon. Afterward, I became a lay leader, and now, three years later, I am the one spreading the word about Israel Bonds at our congregation – together with my fellow lay leaders, Annina and Stephan. What a difference one kiddush can make!
Photos courtesy of Stephan Fichtner