"UK and Israeli bi-lateral relations have never been stronger!" said guest speaker Col Richard Kemp CBE at a recent Israel Bonds reception held at the Embassy of Israel, on 10 September, 2019.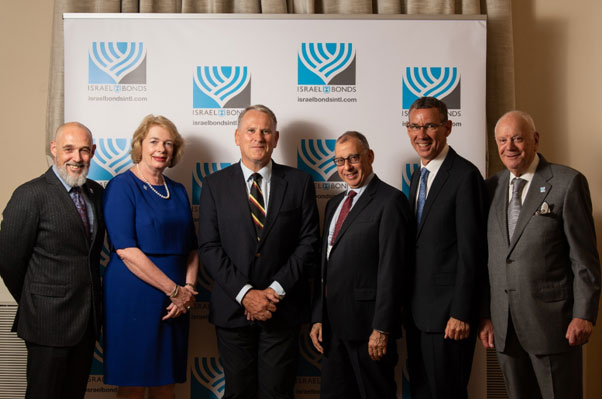 From left to right : Arnon Perlman, Barbara Dingle, Col Richard Kemp CBE , Melvin Berwald, Mark Regev, Israel's Ambassador to the Court of Saint James, Conrad Sandler
Col Kemp CBE shared his thoughts on UK-Israel trade and relations between Israel and both Europe and international bodies such as the UN with the predominantly Christian audience of nearly 50 people.
A new Israel Bonds campaign was launched, called "a bond, a bayit, a blessing". In describing the campaign, Jessica Chammah of Israel Bonds said, "As a thank you to each purchaser of a £100 Mazel Tov bond, we will be giving a custom-designed Birkat Habayit (the Hebrew Blessing for the Home) poster suitable for framing."
Barbara Dingle, Israel Bonds Volunteer Advisory Council member for the Christian community added "Israel Bonds is the direct opposite of BDS – it is investing. Not only this, but the joy of appreciating the underlying encouragement they give to the Jewish State. The more investors, the more Israel is encouraged. Every Bondholder counts – even the smallest amount".
Col Richard Kemp  retired from the British Army in 2006. He commanded an infantry battalion, worked for the Joint Intelligence Committee and COBR and completed 14 tours of duty around the globe, including in Iraq in 1991. He commanded Operation Fingal in Afghanistan in 2003 and 2004.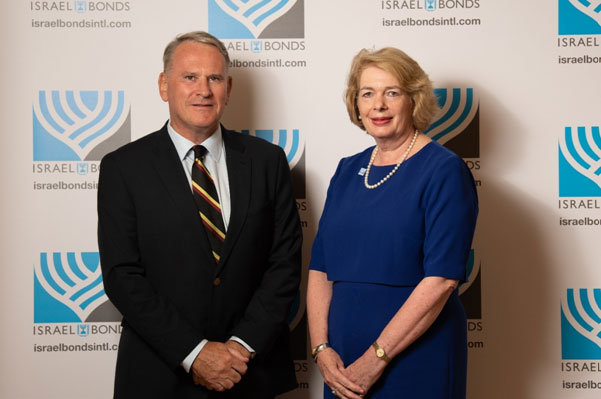 Col Richard Kemp CBE , Barbara Dingle
Photos: Blake Ezra Photography