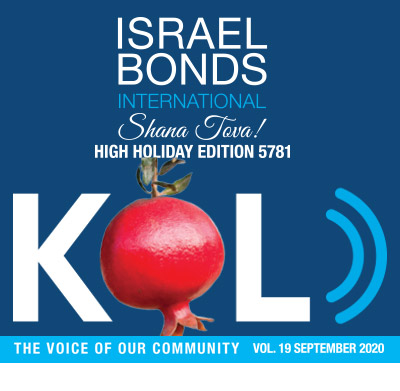 A View from Brazil with Elisa Nigri Griner
Elisa Nigri
São Paulo, Brazil
I was born in Rio de Janeiro and today I live in São Paulo. I always say that I was born in Brazil, but that Israel is the country of my
heart and soul.  
Judaism, in addition to being my religion, is the way I see the world. I love to attend Torah and Kabbalah classes and use Pirke Avot, The Ethics of Parents, as a guide to some decisions in
my daily family life.
My four grandparents came from different parts of the world. My paternal grandfather was born in Sidon, Lebanon; my grandmother in Buchara, Uzbekistan; my maternal grandfather in Sfat, Israel; and my grandmother in Alexandria, Egypt.

I was fortunate to be born into a family that has always had a strong connection to Israel and a tradition of community activism. My maternal grandmother, whose name I bear, founded the Macabeus Club and was responsible for dances and youth meetings in the city. My paternal grandfather, Obadia Cohen, founded the synagogue and the Maghen David school.
Community activism has always been a core family value, anchored by my mother, Sara Nigri, z"l. She was my role model when it came to helping others. My mother was a Lioness of Judah from Keren Hayesod and involved in so many causes. The Women's Division of Beit Lubavitch synagogue in Rio de Janeiro bears her name, in honour of her life-long dedication. My mother's powerful connection with the land of Israel in part inspired her wish to be buried there. In 2018, I had the opportunity to fulfil her wish, when she was buried on
the Mount of Olives.
I am an economist with a postgraduate degree in economic analysis and worked at the Central Bank of Brazil in the area of ​​exchange and money-laundering. In 2002, I ended up leaving my profession to follow my husband's career, and we went to live in the United States, then later in Mexico City, where I had my first contact with volunteer and community work. I took on the role of vice-president of the mothers' committee of my children's school, Colegio Sefaradi. It was a wonderful, meaningful experience.
Volunteer work requires the same degree of commitment
as normal work, but the payoff is much greater.
Arriving in São Paulo, I embraced more community and volunteer work. I participated in the Bialik School Council, forming the school's mothers' group, and today I am part of Israel Shelanu of Keren Hayesod. In addition, I am a member of the Albert Einstein Hospital Social Responsibility Committee, a member of the Council Board of the A Hebraica Sport Club, the Youth Director of Federação Israelita de São Paulo and a member of the Women's Empowerment and Leadership group, also from FISESP.
To be a volunteer is to be altruistic. It is to donate your time, your work and your skills for positive social impact and to support community causes. Volunteer work requires the same degree of commitment as normal work, but the payoff is much greater. It is an example that you pass on to your children and to future generations - L' dorv' dor.
Nowadays I have teenage children who are already interested in doing work for the community and that is a huge source of pride for me. Being a volunteer requires you to love the causes you dedicate yourself to, with all your energy and passion. It brings out the very best within us.