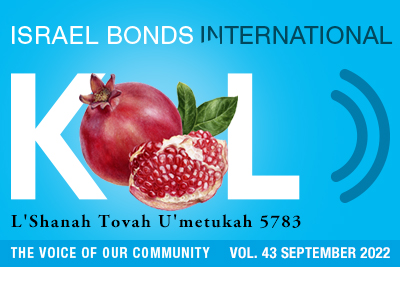 Women's Division from the Four Corners of the Globe!
Laura Orzy, Chair
Women's Division International
In July and August of this year, I had the honour and privilege of meeting in person four outstanding women who are the chairpersons of Israel Bonds, Women's Division in their local cities. They are Elisa Nigri Griner from Sao Paulo, Brazil, Patricia Lisbona Fuchs from Sao Paulo, Brazil, Liat Fleischmann from Frankfurt, Germany and Catherine Lacrosniere from Paris, France. Many of these women were in Israel to either participate in or support family members competing in the Maccabiah Games.
Because of the pandemic, over the past three years we have been "meeting" only on Zoom calls or on the phone, and so to finally meet in person was wonderful! We so appreciated having time to share our love and support for the State of Israel and to find out more about each other's lives, families, successful moments and challenges regarding Women's Division and Israel Bonds as a whole.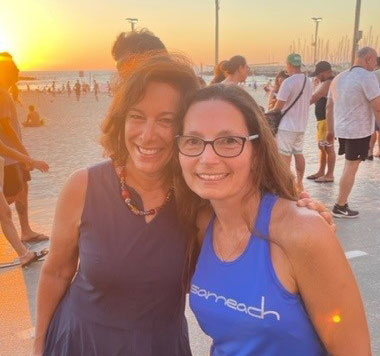 First, I met Elisa Nigri Griner, who had arrived a few days earlier to spend time with her elderly uncle. She was invited to carry the Brazilian flag at the opening of Maccabiah. Elisa is a prominent lay leader in the Jewish community in Sao Paulo, with a strong understanding of what works well in garnering support in her area. Sitting at a local café in Tel Aviv, we caught up on each other's lives and then the conversation turned toward Women's Division in Brazil, which she co-chairs with Patricia. I wanted to understand what challenges they are facing, how I can be of support to them and their council and what ideas she has to grow our Women's Division in Brazil. I came away from that meeting feeling confident and grateful to Elisa for her leadership, vision, and support of Israel Bonds. By the way, a little unknown fact about Elisa… she is a wonderful Rikud dancer!! I witnessed it first-hand!!!
A few days later, Liat Fleischmann joined me for breakfast at my home in Tel Aviv. As we sat on my patio, I learned so much more about Liat and her family. As fellow Torontonians, she and I had much in common and could understand the life we left there to start a new one someplace else. Despite not originating from Frankfurt, she is involved in their local community and has a wide circle of friends, many of whom are members of the Women's Division Council. Since she's also familiar with Israel Bonds' Women's Division in Toronto and the strong presence and success they enjoy, we discussed opportunities to replicate that level of engagement. She shared with me her challenges and plans going forward, and I felt fortunate to be able to spend uninterrupted one-on-one time with her!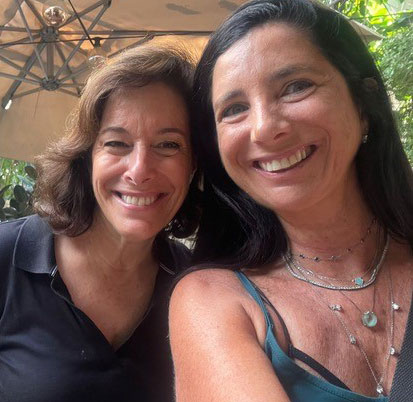 One morning, soon after Maccabiah had ended, I met with Patricia Lisbona Fuchs. She and her family were leaving that day to go home and so I was lucky to catch a short time with her. Once again, meeting Patricia in person was such a delight. We didn't have as much time as we would have liked, but the little we had was enough for me to know that we have an exceptional lay leader co-chairing our Women's Division in Brazil. She really "gets it" and knows what needs to be done to grow Women's Division and raise awareness of Israel Bonds in Sao Paulo.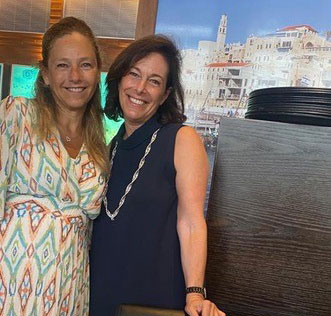 In early August, Catherine Lacrosniere and I met at a typical Israeli restaurant in the port of Tel Aviv. Again, I was blown away by Catherine's understanding and leadership of the Jewish community in Paris. She has a lengthy family connection with Israel Bonds; her father and grandfather were among the first investors with Israel Bonds in France. Catherine is also a renowned medical dietician and has a strong following in that field. She understands the challenges we face in France, but her sunny outlook and love of Israel propels her forward. She's an incredibly optimistic person and I feel privileged to work with her. She has some exciting plans coming up for Women's Division in Paris!
I hope that soon I will have the opportunity to meet in person all our lay leaders and members of our International Women's Division. Hopefully … on the International Women's Division delegation to Israel 2023! There's nothing like it!