Witnessing Israel's Development through the Prism of Israel Bonds
By James S. Galfund
As he convened the historic September 1950 conference leading to the creation of Israel Bonds, Prime Minister David Ben-Gurion told delegates, "You will have an opportunity to see something of what is being done in this country, (which) you will see on the slopes of Jerusalem, in Galilee, on the shores of the Mediterranean, in the vast spaces of the Negev."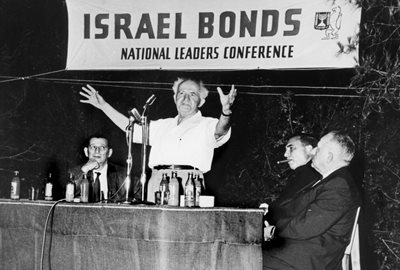 Prime Minister David Ben-Gurion welcomes Israel Bonds leadership to Jerusalem
Renowned as a visionary, even Ben-Gurion could not have foreseen the sheer scope of Israel's development in these regions, and Israel Bonds, the organization he founded, played a significant role in making it possible.
Earlier this year, Finance Minister Moshe Kahlon congratulated Israel Bonds on exceeding $40 billion in worldwide sales since inception, stating, "Since its founding, Israel Bonds has been a cornerstone of Israel's economy. Crossing the $40 billion mark exemplifies the organization's dedication to Israel, and the way in which its message of economic support has resonated on a global scale. On behalf of the government and people of Israel, I wish to thank Israel Bonds and its worldwide client base for helping to build every sector of our economy."
Warren Buffett, the world's most famous investor, has also praised the partnership between the Bonds organization and Israel. In June, participating in his second Israel Bonds event in less than a year, the 'Oracle of Omaha' declared investing in Israel bonds represents "a deserved endorsement of a wonderful country."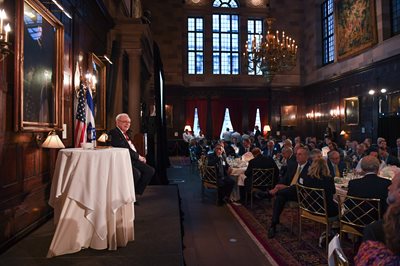 Warren Buffett calls Israel bonds "a deserved endorsement
of a remarkable country" (Photo: Shahar Azran)
Witnessing Israel's rapid development is an extraordinary experience for Israel Bonds supporters. National Women's Division Chair Shira Lewis says, "It seems like the world today revolves around Israeli technology and the Israeli concept of making the world a better place. One is hard pressed to go through daily life without being affected by Israel in some way, large or small."
Israel Bonds member Dr. Andy Hutter is also a frequent visitor to Israel: "I have had the privilege of co-chairing five medical delegations on behalf of Israel Bonds. Seeing how Israeli technology is saving lives and changing the world has been an unforgettable memory for every participant."
I recently had my own opportunity to visit Israel for a look at three areas in which the country has exceled – water solutions, sustainability and transportation.
Water Solutions
The National Water Carrier, a frequent stop for Israel Bonds delegations, is arguably Israel's most iconic undertaking. Begun in the late 1950s, the carrier stretches from the Sea of Galilee to the Negev, and was instrumental in the realization of Ben-Gurion's determination to "make the desert bloom."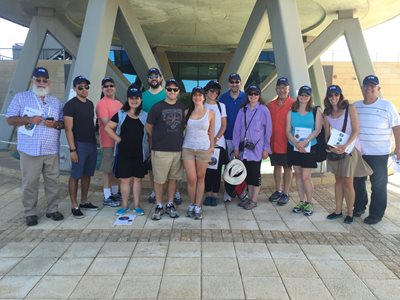 Members of the Israel Bonds staff delegation pay a visit to Israel's iconic National Water Carrier, the nation's most ambitious infrastructure project (Photo: James S. Galfund)
But there was a problem. As Israel's population grew, the amount of water needed for drinking rose exponentially. Increasing amounts of Israel's scarce water resources had to be diverted from agriculture to the growing requirements of its citizens.
That's where Israel's well-established reputation for innovative solutions came into play. With the Mediterranean Sea as the country's western border, desalination became an obvious answer. Now, eighty-five percent of Israel's drinking water comes from the sea.
Today, Israel's water supply is no longer dependent on nature. Even in the event of a major drought, Israel still would have sufficient resources to meet the needs of its population.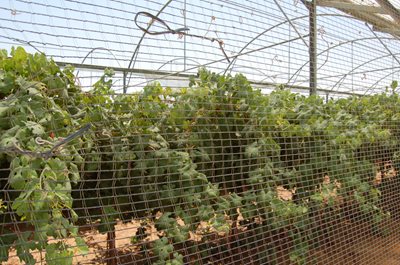 Vineyards in the desert region of Arava highlight Israel's successful approach to innovative water solutions (Photo: James S. Galfund)
Sustainability
Israel is at the forefront of groundbreaking technology and innovative environmental solutions. An outstanding example of the way in which Israel combines the two is the Shafdan wastewater treatment plant, located five miles south of Tel Aviv.
Over the course of a year, Shafdan treats 35.6 billion U.S. fluid gallons of wastewater that supply fully 70 percent of the irrigation needs of the Negev and 10 percent of the water needs of the entire country.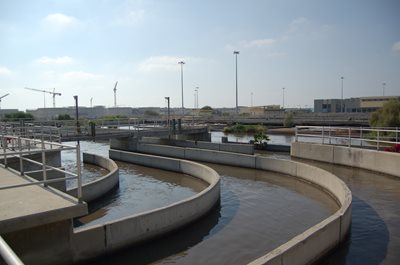 The Shafdan wastewater treatment plant provides 70 percent of the Negev's irrigation needs and 10 percent of the water needs of the entire country (Photo: James S. Galfund)
Another example of Israel's cutting-edge approach to green solutions is Ariel Sharon Park, once a massive landfill that is now a model of sustainability. At one time, the huge landfill contained so much trash that it rose to a height of nearly 200 feet and was dubbed 'Trash Mountain.'
Today, thousands of Israelis flock to Ariel Sharon Park to enjoy its hiking trails, bike paths, artificial lakes and groves of trees. International representatives from countries including China, Sri Lanka and Mexico have also come to the park seeking advice that will enable them to benefit from yet another example of Israeli ingenuity.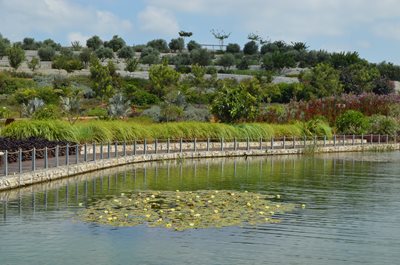 Ariel Sharon Park's tranquil lake, complete with floating lily pads and a border built from recycled concrete, is a far cry from the waters of the former landfill that were once referred to as 'garbage juice' (Photo: James S. Galfund)
Transportation
During an Israel Bonds delegation to Israel, New Leadership Council member Jason Langsner listened intently to Jerusalem Mayor Nir Barkat. "I vividly remember Mayor Barkat discussing planning goals associated with construction of the new high speed train connecting Tel Aviv and Jerusalem. He predicted that as a direct result of the project, Jerusalem would construct 13 new towers, adding over 10 million square feet of office space in the coming years."
The high-speed rail project is indeed a game-changer. After overcoming the kinds of delays inherent in an enterprise of this magnitude, the Capital Express is expected to become fully operational next year.

Custom-made boring machines carve tunnels out of formidable terrain. Every tree, and even the rocks, are carefully moved and then placed back exactly as before (Photo: James S. Galfund)
When that happens, passengers will race from Tel Aviv to Jerusalem on trains reaching speeds of 100 mph. The journey, currently a tedious 1 ½ hours each way, will be whittled down to just 28 minutes.
The high-speed electric trains will speed along a complex network of bridges and tunnels being hailed as one of the largest infrastructure projects in Israel's history.

Israel's high-speed trains will race 100 mph along a network of eight bridges and six tunnels (Photo: James S. Galfund)
"An Extraordinary Success Story"
Seeing Israel's amazing advances in so many fields always inspires the nation's supporters. Israel Bonds Chairman of the Board Richard Hirsch sums it up: "Every time I've been to Israel, I've never failed to be moved by the scope of development. The fruition of Ben-Gurion's vision of a worldwide partnership with the Diaspora through Israel Bonds can be seen throughout the country. Together, every Israel bond investor has played an important part in this extraordinary success story."