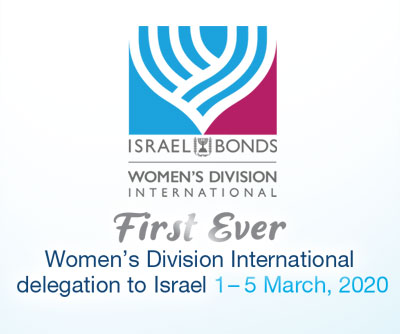 Israel Bonds Women's Delegation Itinerary*
1-5 March 2020
Theme: Innovation& Women Entrepreneurs
Locations: Tel-Aviv & Jaffa

Breakfast available from 06:30 at Hilton
07:00 – Yoga on Tel Aviv beach by Orit Ashkenhazi (optional)
09:30 – Private room with special guest Yael Huldai (wife of Tel Aviv's Mayor). Social Entrepreneurship
11:00 – Peres Center for Peace and Innovation
Welcome and Short tour of Peres Center for Peace and Innovation hosted by Efrat Duvdevani, CEO
https://www.peres-center.org/en/the-organization/about-us/
12:00 – Round table discussion – Women entrepreneurships
Moderated by Dania Masalha (TV presenter in Arabic language and a seasoned Business Analyst)
Panelists :
Sari Roth — Founder & CEO at Bontact
Known as the first Ultra-Orthodox female entrepreneur, Sari was the first Haredi women to raise capital from non-Haredi VC & responsible for launching program to encourage entrepreneurship in the ultra-Orthodox sector by supporting Haredi women establish themselves in the business world
https://www.amimagazine.org/2017/11/08/women-business-sari-roth/
Ofra Abramovich- Founder Mamanet
Established in 2005 Mamanet –mothers Cachibol- league is the largest social - sports league exclusively for mothers in Israel today. Mamanet which has now spread throughout the world and is open to anyone above the age of 30, regardless of height and weight has the potential to change the sports society and life of women. Mamanet combines sports with communities and runs across all populations. The vision is to create awareness and promote healthy and active lifestyles for women worldwide, increasing involvement in their communities.
http://www.mamanet.org.il/International.asp
Dr. Carmit Yadin, Founder, ArcuTeam
13:15-14:15 – Lunch - Faraji — authentic Tripolitan Cuisine
https://www.eluna.com/Rest/faraji.asp
14:15 – Hands on intimate look at the political system on Election Day with Dana Weiss.
18:30 – Dinner with Titi Aynaw – First ever Ethiopian to be become Miss Israel
https://en.wikipedia.org/wiki/Yityish_Titi_Aynaw
At Goshen restaurant
http://goshentlv.co.il/%d7%90%d7%99%d7%a8%d7%95%d7%a2%d7%99%d7%9d/
21:30-23:00 – I24 News Studio and poll results
The delegation will visit I24 News studio - where they will watch the results of the election, tour the studios, meet I24 News CEO and senior journalists.
Theme: Jerusalem City of Connections
Location: Jerusalem, Yehuda mountains
Breakfast available from 06:30 at Hilton
08:00 — Depart Hotel
09:30-11:30 — City of David
A VIP exclusively tailored tour of the archaeological digs.
The VIP tour at the City of David will include entrance to areas closed to general public, such as, behind the scenes excavations and finds not yet opened to visitors in multiple parts of the site ( i.e Robotic Model, closed areas of King David's palace or access to the Pilgrimage Road discovered and still under excavation)
http://www.cityofdavid.org.il/en/archeology
11:30-12:30 — Kotel (The Western Wall) — A chance to take a moment and visit one of the holiest sites in the world.
13:00–16:00 — Mahane Yehuda market — Combined lunch with a culinary tour and art experience.
When culinary entrepreneurship meets art entrepreneurship - multisensory experience
Tali Friedman – Haatelie Professional chef with deep roots in Jerusalem, studied and attended programs at the kitchens of master chefs, and graduated from the elite LeNotre School in Paris. Today one of the strongest women in Jerusalem, after being appointed chair of the Mahane Yehuda market - she manages 500 dealers and runs the most "hot" complex in Jerusalem
http://allaboutjerusalem.com/restaurant/culinary-tours-mahane-yehuda-tali-friedman
Lunch will be split between a meal at Tali's atelier and a market tour for desserts and sweets and a dance show
A collaborative dance work by two artists. A Muslim and a Jew. A choreographer and a dancer. Both born and raised in Jerusalem.
Choreography: Elad Schechter
Created and Performed by Rand Zeid Taha
16:30 — Make our way to the breath-taking vineyards
17:30 — Sunset at Samson& Delilah Winery
https://www.israelwinetour.co.il/tag/samson-and-delilah-winery/
Wine tasting of the wines produced in the vineyard
20:30-21:00 — Return to Tel-Aviv
Theme: Remarkable women of the desert
Location: Mitzpe Ramon
07:00–07:45 — Breakfast @Hilton
08:00 – Depart for Mitzpe Ramon
11:00-12:15 — Unique visit to an elite women army unit including introduction and personal stories of the female combats followed by a round table and an open discussion – "Being a female fighter against all odds"
12:45-14:15 – Lunch at Rosemary Restaurant — Beresheet Hotel
https://www.isrotelexclusivecollection.com/isr-eventsmain/hangouts/restaurants/mitzpe-ramon-negev/beresheet/rosemary-restaurant/
14:30-15:30 — Hana Rado & Midbar 19 - a serial social entrepreneur who pledged to work towards making Israel a better place. As COO of McCann Tel Aviv, she founded McCann Valley, a digital advertising agency with over 20 employees in Mizpe Ramon in the hope of changing Mizpe Ramon's secluded reality. She is also responsible for founding the "Midbar 19" call center which services many large Israeli establishments.
16:00-17:30 – Experience the uniqueness of the desert with a fun 4x4 experience
18:00-20:00 — Desert bonding party
20:15 — Back to Tel-Aviv
Theme: Science, Medicine and Art
Location: Tel-Aviv & Tel-Hashomer
08:30 —Briefing with senior members of Ministry of Finance Private room
10:00–11:30 — Wolfson Hospital- "Save a Childs Heart" — First Israeli NGO to win UN Population Award!
Israeli based international NGO with the mission of improving the quality of pediatric cardiac care for children in developing countries & creating centers of competence in these countries. Their goal is to improve the health and welfare of all children, regardless of the child's religion, gender or nationality
https://www.saveachildsheart.org/about-us
12:00-13:30 — Visit the Volcani Institute Center and meet one of the leading scientists and researchers in the field of Cannabis.
https://www.agri.gov.il/en//pages/1023.aspx
14:30-15:30 — Visit the studios and meet Shahar Avnet who designs for Beyoncé tour gowns, American actress and singer Zendaya and Eurovision song contest winner Netta Barzilai .
18:00 –20:00 — Closing dinner at The Hilton
Contacts in Israel :
Hotel -Hilton Tel Aviv -
HaYarkon St 205, Tel Aviv-Yafo, 6340506, Israel
+972 3-520-2222
Important Contacts :
Carmit Hoomash- +972 52 341 8088
Sara Friedman- +972 54 303 0336
Zara Landesberg- + 44 7940 222 505
Orit Usharovsky- +44 7950 552 130
Vicky Mamieh-  +52 5522787799
Tour Guide – Noam Savion - +972 54 424 6856
© Copyright © 2020 Development Company for Israel (International) Ltd. All Rights Reserved.