Israel's technology is literally out of this world: according to the Times of Israel, "Man's latest attempt to search for life on the Red Planet has a critical blue-and-white component – a propulsion system that will gently guide the newly-launched ExoMars spacecraft to the surface of Mars when it gets ready to touch down sometime in 2018."

The World Economic Forum's 2016 Global Competitive Index ranked Israel third out of 140 countries for "capacity for innovation" and "quality of research institutions."

The Times of Israel highlighted Israel's global leadership in life sciences, noting, "more than one out of every four of the medicines, treatments, and technologies in use today have Israeli roots."  

During his March visit to Israel, Vice President Joe Biden declared: "Israel is about to become the epicenter of energy in this entire region, and can have a profound, positive impact on relatiionships from Egypt to Turkey to Cyrpus to Greece to Jordan."   

The Jewish Telegraphic Agency reported the Middle East is experiencing its worst drought in 900 years, but added the impact on Israel was "significantly dampened by its array of six desalination plants."  The article went on to say, "When the sixth plant in Ashdod goes into full production, Israel's desalination plants will reach 600 million cubic meters of water, which is nearly 70 percent of Israel's domestic water consumption."

An article on YnetNews.com reports Apple "has so far invested $1.2 billion in Israel and continues to eagerly recruit new Israeli employees."

A recent survey issued by U.S. News & World Report ranked Israel the eighth most powerful country in the world.  The power rankings were based on the following factors: "a leader, economically influential, politically influential, strong international alliances, strong military."

In commemorating the 25th anniversary of Microsoft's Israel R&D Center, Bill Gates said Israeli technology "is improving the world."  He added, "I can't wait to see what they come up with in the next 25 years."

Five Israeli startups are creating new advances in 'disability tech,' enabling physically challenged individuals to engage in once unthinkable activities, such as traversing rugged terrain via high-tech wheelchairs.

Israeli company WoundClot has created a unique bandage that could save lives on the battlefield or the operating room by stopping severe bleeding within minutes.

Oracle acquired Israeli cloud software company Ravello Systems for an estimated $500 million.

An Israeli-invested mini-sized manual ventilator is being used to save wounded American soldiers in Afghanistan.  The device has also been utilized to treat thousands of people injured during natural disasters such as the Nepal earthquake.

An Israeli company announced development of technology that will extend the lives of brain tumor patients. In clinical trials, the percentage of patients surviving more than two years increased dramatically.

Intel made the largest-ever foreign investment in Israel's tech sector, $6 billion for production of the company's next generation chip.

An Israeli company has developed inflatable isolation tents that are being used in Western Africa to halt the spread of Ebola.
A Global Innovation Leader 
Israel is an internationally recognized leader in creative technologies. The World Economic Forum's 2016 Global Competitive Index placed Israel third out of 140 countries for "capacity for innovation" and "quality of research institutions."
Israel is ranked*: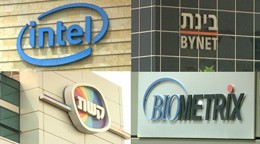 First globally for highest rate of R&D expendintures as a percentage of GDP
First globally for innovative capacity
First globally for highest density of startups 
Second on the Bloomberg Global Innovation Index
Second miost listed companies on Nasdaq outside the U.S.
* Israel Ministry of Finance, January 2016
The Historical Perspective

During a post-World War I visit to Palestine, Winston Churchill declared: "We think it will be good for the world, good for the Jews, good for the British Empire, but also good for the Arabs who dwell in Palestine...they shall share in the benefits and progress of Zionism." *In 1939, he observed, "far from being persecuted, the Arabs have crowded into the country and multiplied until their population has increased more than . . . the Jewish population."
Over the ensuing decades, the work first started by the Zionist pioneers has resulted in a fully developed, modern nation benefiting all its citizens, Jewish and Arab alike.
*March, 1921
________________________________________
In his 1869 travel memoir The Innocents Abroad, Mark Twain wrote: "A desolation is here that not even imagination can grace with the pomp of life and action....We never saw a human being on the whole route....There was hardly a tree or a shrub anywhere. Even the olive and the cactus, those fast friends of the worthless soil, had almost deserted the country."
Today, Twain would be astonished by a nation of 8.1 million, with a dedication to the land that has resulted in extensive greenery stretching from the Galilee in the north to even the arid Negev desert in the south.
*The Innocents Abroad (American Publishing Company, 1869)
________________________________________
French writer Pierre Loti described his 1895 visit to Palestine thusly: "I traveled through sad Galilee in the spring, and I found it silent. . . . As elsewhere, as everywhere in Palestine, city and palaces have returned to the dust. This melancholy of abandonment weighs on all the Holy Land."
As Israel celebrates its 65th anniversary, the land Loti described as "sad" and "silent" is now a vibrant nation of innovation, culture and a diverse population of more than 8 million citizens from over 100 countries.
*La Galilee (Paris, 1895), pp. 37-41
________________________________________
In 1835, French poet Alphonse de Lamartine offered this description in his book Recollections of the East: "Outside the gates of Jerusalem, we saw indeed no living object, heard no living sound. We found the same void, the same silence as we should have found before the entombed gates of Pompeii or Herculaneum… a complete, eternal silence reigns in the town, in the highways, in the country….The tomb of a whole people."*
Today, in Jerusalem and throughout Israel, one can find vibrancy, culture, the arts and hubs of innovation creating landmark advances in science and medicine – a far cry from the "complete, eternal silence" described by de Lamartine.
*London, 1845, pp. 268, 308
________________________________________
In his 1925 work, Israel, Ludwig Lewisohn wrote: 'The ruin and desolation of the land was and is to us its glory and opportunity. Here the creative effort of the Jew must build first the very soil he is to dig, bring the very water that is to make it tillable . . .'*
Lewisohn's words proved prophetic, as first the Zionist pioneers and then the citizens of the sovereign Jewish state, turned 'ruin and desolation' into a flourishing, forward-looking nation - an example to the entire world of how challenge and adversity can become promise and opportunity.
*Israel, 1925, p. 167
________________________________________
In 1881, English cartographer Arthur Penrhyn Stanley surveyed the forbidding landscape of Judea and wrote this bleak assessment: 'It is hardly an exaggeration to say that for miles and miles, there was no appearance of life or habitation.'*
The dramatic reclamation of the land, beginning with the Zionist pioneers and dramatically accelerated following Israel's independence, has resulted in a transformation that would astonish Stanley. Dynamic cities, abundant greenery and vibrant cultural centers have replaced the once- barren surroundings.
Jerusalem's evolution has been especially significant. Today, Jerusalem is a dynamic world capital, center of spirituality and a hub of innovative science and technology, as exemplified by Har Hotzvim, the city's high-tech industrial park.
* Arthur Penrhyn Stanley, Sinai and Palestine, (London: John Murray, 1881), p. 118
________________________________________
In 1857, British Counsel in Palestine James Finn offered a bleak assessment to the Earl of Clarendon: "The country is, (to) a considerable degree, empty of inhabitants and therefore its greatest need is that of a body of population."*
Counsel Finn would be astonished by today's strong, forward-looking Jewish state with a population of more than 7.5 million. That population, including over 3 million successfully absorbed immigrants, is providing an exceptional resource – brainpower – that continues to change life as we know it.
*Letter to Earl of Clarendon, September 15, 1857; British Foreign Office Documents 78/1294 (Pol. No. 36)