Omnipräsent wie die Sonne in Tel Aviv.
Festival "70 Jahre Israel"
Auf dem dreitägigen Fest "70 Jahre Israel" der Deutsch-Israelischen Gesellschaft (DIG) hat Israel Bonds die interessierten Gäste nicht nur am eigenen Stand überzeugt. Schon bald war das Logo von Israel Bonds in der Eventlocation "Station Berlin"präsent.
Am Messezelt von Israel Bonds informierte Deutschland-Direktor Michael Grauss über die israelischen Staatsanleihen. Auch die Polit-Prominenz besuchte den Stand, darunter der Vize-Präsident der Knesset, Yehiel Bar, und der engagierte Israel-Freund Volker Beck (Grüne).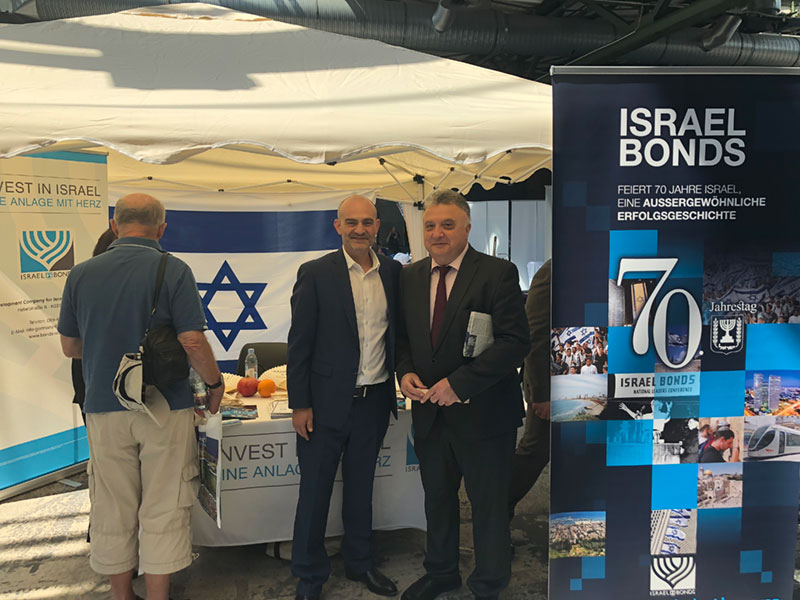 Michael mit Jeremy Issacharoff, Botschafter des Staates Israel in Deutschland (Photos: Stephan Fichtner)
"Wir wollen das bunte Leben Israels in den Mittelpunkt stellen, denn 99 Prozent Israels sind bunt," beschrieb DIG-Präsident Hellmut Königshaus das Konzept der Veranstaltung. So reichte die Programmvielfalt von Beach-Parties mit DJ über Krav Maga-Kurse bis zur kinderfreundlichen Hüpfburg. Letztere stürmten auch die Ehrenamtlichen der New Leadership Division, natürlich erst nach Feierabend. Davor haben sie fleißig gearbeitet, selbst abseits des Standes. Zum Beispiel nahm Stephan Fichtner als Repräsentant von New Leadership an einem Panel über pro-israelische Jugendarbeit teil. Außerdem lasen die New Leaders dem ganz jungen Publikum Kindergeschichten vor.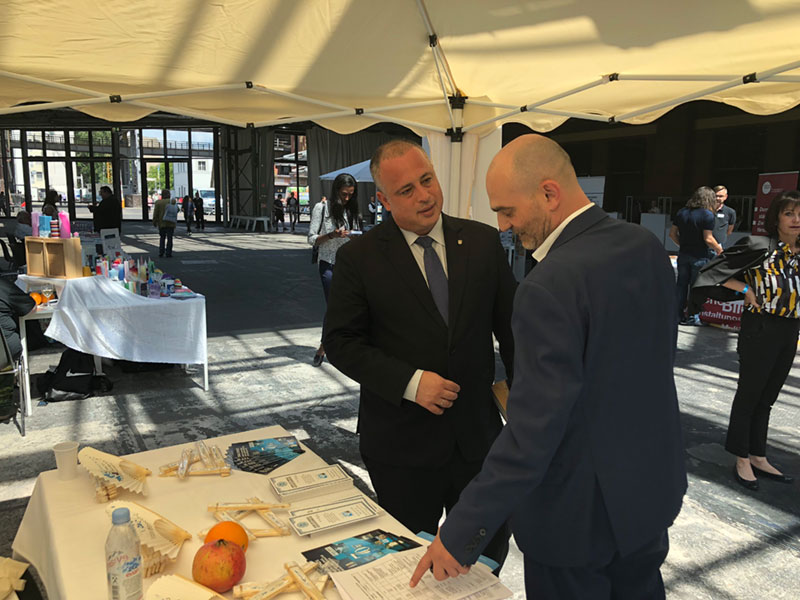 Michael mit Yehiel Hilik Bar, Vizepräsident der Knesset (Photos:  Stephan Fichtner)
Bei einem solch starken und vielfältigen Angebot kam das Logo von Israel Bonds wirklich überall auf dem Gelände zur Geltung. Denn bei Temperaturen wie am Strand von Tel Aviv erfreuten sich vor allem die Fächer von Israel Bonds großer Beliebtheit. Mit frisch zugefächerter Luft ließ es sich einen kühlen Kopf bewahren.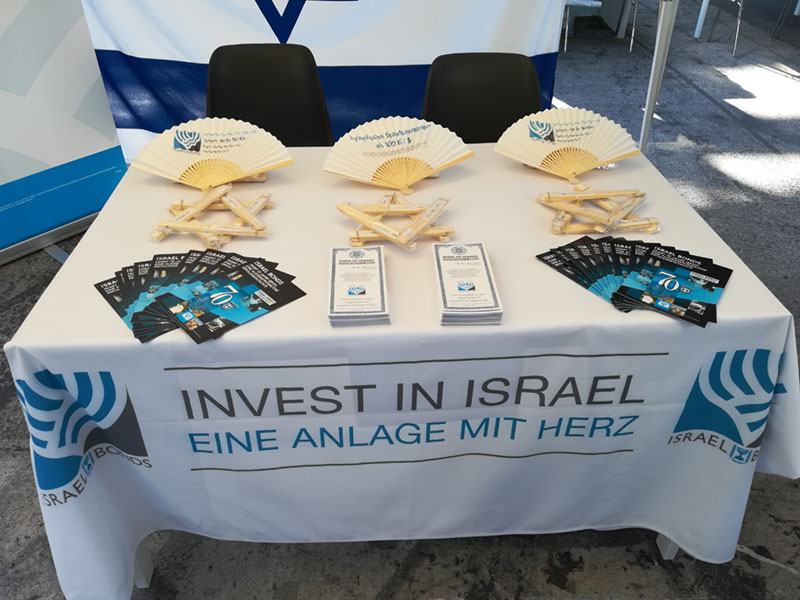 Israel Bonds Stand auf dem 3-Tage-Festival der Deutsch-Israelischen Gesellschaft (DIG)(Photos: Annina Schmidt)

Israel Bonds Participates in Gala London Salute to Israel
24.Mai 2018
London's historic Royal Albert Hall, opened in 1871 by Queen Victoria, was the glittering setting for a gala salute to Israel on the occasion of its 70th anniversary. The event – Platinum: Celebrating Israel at 70 – was attended by numerous prestigious dignitaries, including His Royal Highness the Prince of Wales, and paid tribute to the Jewish State through a program of Israeli music and dance.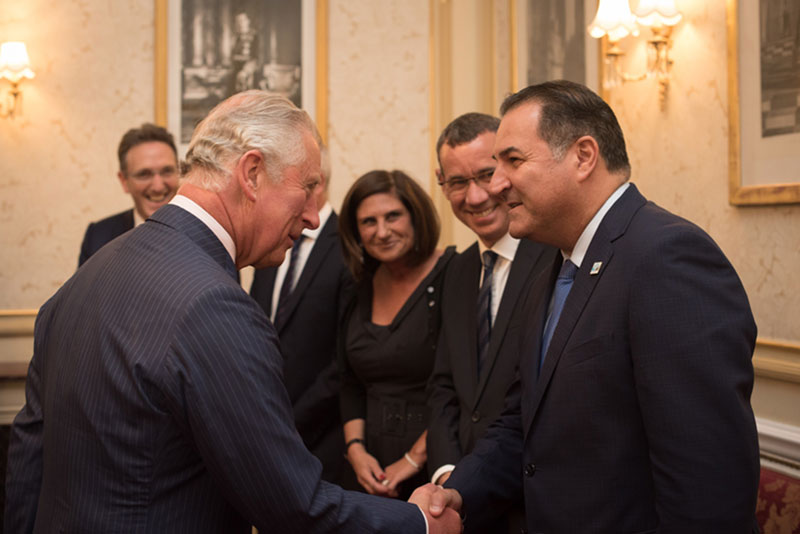 His Royal Highness the Prince of Wales greets Israel Bonds President & CEO Israel Maimon
(Photo: Blake Ezra Photography)
Development Company for Israel (International) Ltd./Israel Bonds was a proud participant in the extraordinary May 24 event, with Israel Maimon addressing a crowd numbering several thousand. In his remarks, Maimon declared, "I am proud to address you as president & CEO of Israel Bonds, the global enterprise that has helped make Israel an extraordinary success story."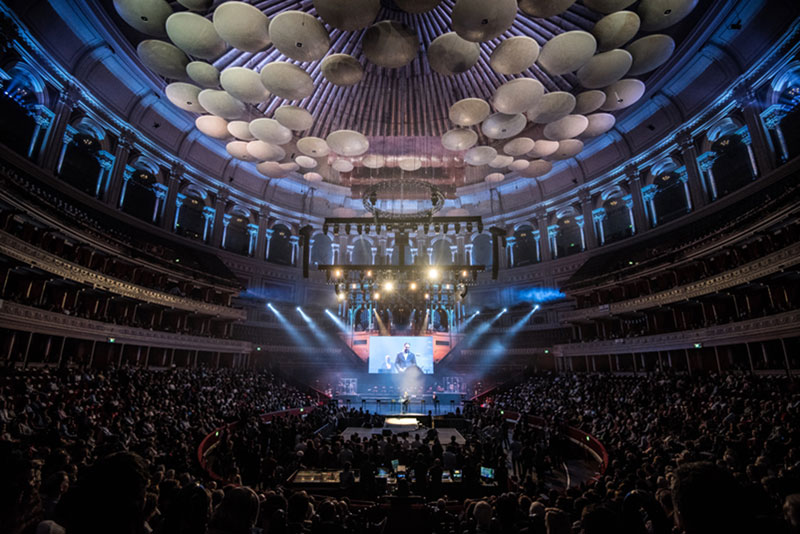 Bonds President & CEO Israel Maimon, projected onscreen, addressed an audience of several thousand at London's historic
Royal Albert Hall (Photo: Blake Ezra Photography)
Maimon concluded by introducing renowned refusenik Natan Sharansky, whom he praised as, "a major catalyst for opening the gates of freedom" for Soviet Jews. He added, "Mr. Sharansky's defiant words upon being unjustly sentenced – 'Next year in Jerusalem' – continue to resonate and inspire more than 40 years later."
The previous evening, Israel Bonds honored Sharansky at a reception hosted by Ambassador of Israel to the United Kingdom Mark Regev at his official residence. In making a presentation to Sharansky with international board members Michael Siegal of Cleveland and Jonathan Lewis of London, Maimon observed that the former prisoner of Zion "personifies courage, determination, and love of Israel and the Jewish people."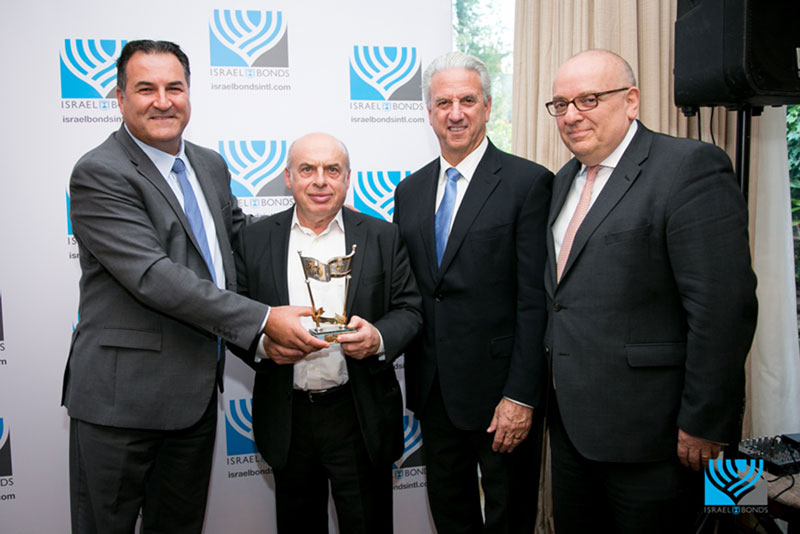 From left: Bonds President & CEO Israel Maimon; Natan Sharansky; and international board members Michael Siegal and Jonathan Lewis (Photo: Chiko Photography)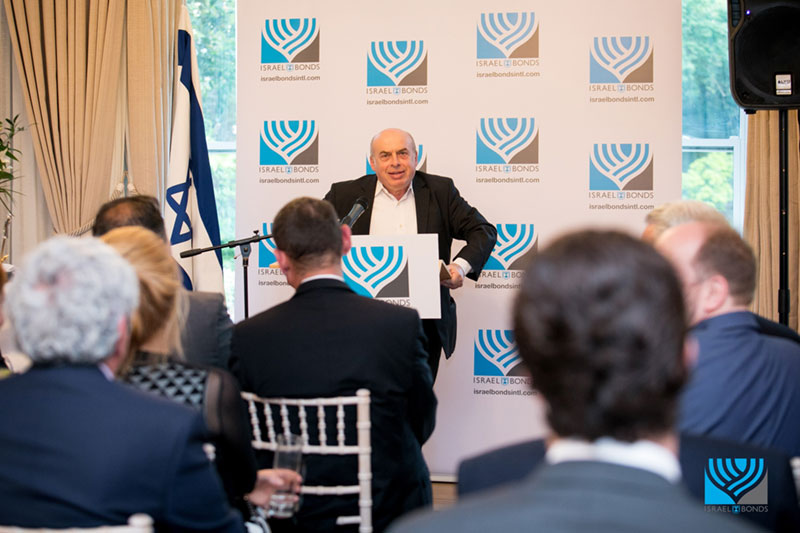 Famed refusenik Natan Sharansky speaks at an Israel Bonds reception in his honor at the home of Ambassador Mark Regev (Photo: Chiko Photography)