Deutsche Bundesbank President Dr. Jens Weidmann Visits Israel, Meets with Finance Minister, Bank of Israel Governor, Israel Bonds and Views Innovative Tech
7/2/2018
Deutsche Bundesbank President Jens Weidmann visited Israel 2nd and 3rd of July.
Dr. Weidmann has served as Deutsche Bundesbank president since May 2011. Additionally, he is a member of the Governing Council of the European Central Bank and governor of the International Monetary Fund.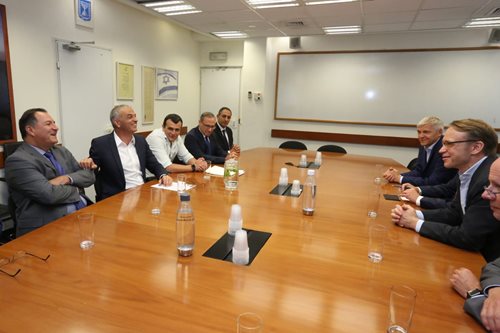 Dr. Weidmann meets with Finance Moshe Kahlon and other ministry officials
Dr. Weidmann was particularly interested in coming to Israel during the nation's historic 70th anniversary year. Among Israel's greatest accomplishments has been the building of an economy that, over the past several years, has ranked among the world's stronges (*Source: jpost.com Jan 18). Dr. Weidmann received firsthand briefings on Israel's economic stature from Finance Minister Moshe Kahlon and Bank of Israel Governor Karnit Flug. The visit goes back to one suggested by Israel Bonds President & CEO Israel Maimon with whom Weidmann also met.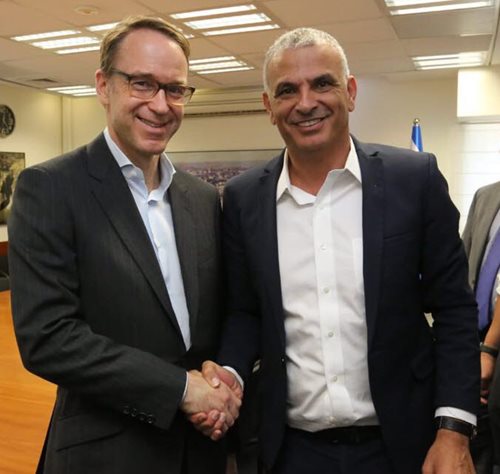 Deutsche Bundesbank President Dr. Jens Weidmann (left) with Israeli Finance Minister
Moshe Kahlon
Israel is also globally renowned for its high-tech accomplishments, especially in the field of cyber security, and Dr. Weidmann had an insightful look at its pace-setting advances in the field through a visit to Check Point Software Technologies Ltd., the world's largest network cyber security vendor (**source: checkpoint.com). At Check Point's Tel Aviv headquarters the meeting focused on cyber security implications for the banking and financial sectors and an update on preventive solutions currently in development.

Summing up his visit, Dr. Weidmann said, "It was an enlightening and inspiring experience to have a feel for what Israel has achieved in a span of only 70 years."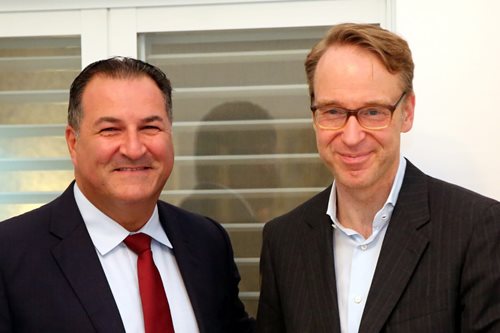 Israel Bonds President & CEO Israel Maimon with Dr. Jens Weidmann
Development Corporation for Israel/Israel Bonds President & CEO Maimon noted, "Israel Bonds was honored to have had this unique opportunity to showcase Israel for Dr. Weidmann."
Photos: Yossi Zamir
* Two-major-US-surveys-rank-Israel-among-most-powerful-innovative-countries