Howard Goldstein: "I Wanted to Make Israel an Essential Part of My Life"
At a May 8th, 2018 meeting of the national board of directors of Development Corporation for Israel/Israel Bonds, Howard Goldstein was elected chairman of the board by unanimous vote.
Reflecting on his significant new role, Howard expresses appreciation for the fact that he reached this plateau during Israel's 70th anniversary year. "Supporting Israel," he affirms, "has been a central part of my Jewish identity."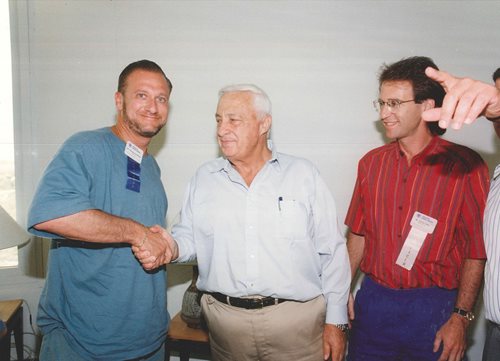 Howard Goldstein, who first met Israel's leaders through his role as North American New Leadership chair, shakes hands with Ariel Sharon
 Discussing the path that led him to this point, Howard explains, "Growing up in New Jersey, my family's wellbeing was full of uncertainty. My father passed away when I was 10, and my mother struggled to put food on the table. Yet, no matter how tough times were, there were two things she instilled in my brother and me: to take pride in our Jewish heritage, and always try to make a difference. These ideals were what ultimately brought me to Israel Bonds."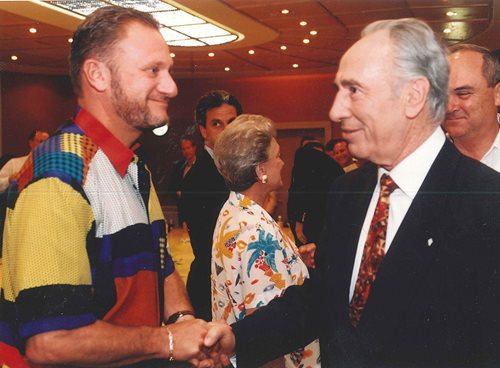 Greeting Shimon Peres during the Bonds Jerusalem 3000 delegation
Overcome challenging odds, Howard graduated from Rutgers University in 1973 with a major in economics and accounting. In 1981, he moved to Miami - where he still resides today and is a CPA and presently a senior partner with Appelrouth Farah & Co. - and decided "to engage with other young professionals within a Jewish organization." His chosen means was through Israel Bonds New Leadership.
Early in his New Leadership involvement, Howard went on his first delegation to Israel with his wife Marcy, and his life forever changed. "I fell in love with Israel," he recalls. "I could relate to the idea of overcoming adversity. The more I learned, the more I wanted to make Israel an essential part of my life."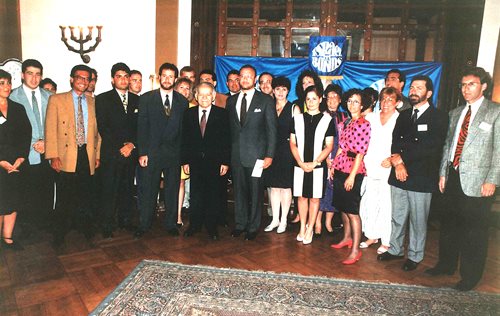 Howard Goldstein and New Leadership delegates join Prime Minister Yitzhak Shamir for a group photo
 Over the years, Howard led and participated in numerous delegations, "and each visit has given me a remarkable sense of fulfillment."
He adds that those delegations "provided the opportunity to meet legendary leaders of Israel, which includes every prime minister over the past 30 years. There was never a time when I sat down one on one with a prime minister that I was not overwhelmed with a sensation of wonderment." Howard remembers feeling amazed that "a young individual who grew up with nothing could actually be doing this."
After assuming major national New Leadership roles, Howard became Miami general chairman and was subsequently appointed to the national board of directors. Now, as national chairman of the board, Howard is focused on a proactive approach, "which is fueled by my passion for Israel."
That passion is anchored in the belief that "seven decades ago, the Jewish people had to think outside the box, and that changed the course of their fate. Now, as we celebrate Israel's 70thanniversary, we have to, as I like to say, make our box bigger. Israel is not just a state; it's also a state of mind. For a people that had to fight for their existence throughout centuries and across continents, the idea that we can now make decisions about our future is a dream come true every single day." It is a dream, he asserts, "which should never, ever be taken for granted."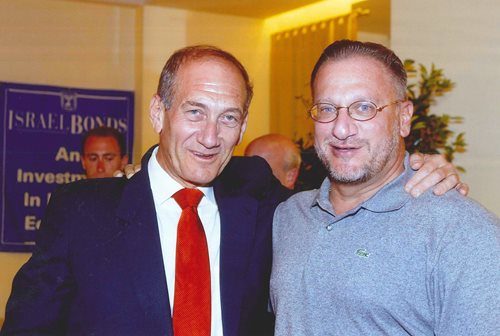 Sharing a moment with Prime Minister Ehud Olmert
He firmly believes "our connection to Israel must remain strong for the Jewish state to continue to realize significant milestones. Investing in Israel bonds is a tangible means of making this all possible. Israel bonds are built on existing feelings of trust and faith. On a personal level, I view my investments in Israel bonds as a form of 'economic aliyah,' a manifestation of my Zionism and commitment to building on the strength of everything Israel has achieved, and will continue to achieve, since independence."
Summing up what drives him, Howard emphasizes, "I am deeply motivated by family – my wife Marcy and our children and grandchildren - to perpetuate my lifelong connection with Israel. As chairman of the board, I want to help ensure that my entire, global Jewish family can share in this opportunity. There is consistency and intense enthusiasm in this kind of engagement, with each side gaining from the best the other has to offer."
Photos courtesy of Howard L. Goldstein
Marketingmitteilung
Sie konnten Ihr Kapital riskieren.