Wall Street Journal: "Buffett Sings the Praises of Israel Bonds"
In an article highlightiing Warren Buffett's participation in his second Israel Bonds event in less than a year, the Wall Street Journal wrote an article headlined, "Buffett Sings the Praises of Israel Bonds."
The article said Buffett "likes to invest in Israel because it is a success story similar to the U.S." In speaking of investing in Israel bonds, the Journal quoted Buffett as saying, "From the standpoint of accomplishments beyond financial
returns . . . I think it's an excellent choice."
To access the Wall Street Journal article, click here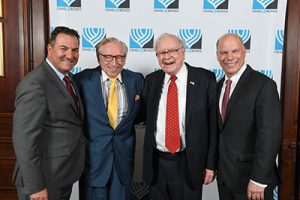 Sharing a moment are, from left: Bonds President & CEO Israel Maimon;
developer Larry Silverstein; Warren Buffett; and Bonds Vice President
for Sales Stuart Garawitz
The famed 'Oracle of Omaha' came to New York June 15 and addressed Israel bond investors from the United States, Brazil, Canada and Mexico, each of whom agreed to make a new minimum Israel bond investment of between $1 million and $5 million to participate. Buffett spoke at an intimate luncheon at the World Trade Center and a dinner at a private club in Manhattan. Developer Larry SIlverstein welcomed luncheon guests, and David Rubenstein, co-founder and co-CEO of the Carlyle Group, greeted attendees at the evening event.
Enjoying lunch with the 'Oracle of Omaha' at the World Trade Center
Accolades for Buffett came from Israeli Prime Minister Benjamin Netanyahu and Finance Minister Moshe Kahlon. The prime minister who, in addition to recording a tribute video, wrote, "As one of the world's most successful leaders in business, your words and actions are closely followed and emulated. Your personal investment in Israel bonds is a powerful endorsement."
Bonds President & CEO Israel Maimon presents Warren Buffett
with a framed letter of appreciation from Prime Minister Benjamin Netanyahu
Finance Minister Kahlon praised Buffett's "unwavering confidence in Israel – its creative spirit, forward-looking attitude and, of course, its strong, resilient economy. We take pride in calling you a friend." The Finance Ministry was represented by Accountant General Rony Hizkiyahu.
Finance Ministry Accountant General Rony Hizkiyahu with Warren Buffett
at the World Trade Center luncheon
Israel Bonds President & CEO Israel Maimon told Buffett, "Your personal investment in Israel bonds underscores your belief in the Jewish state and the resilience of its economy."
Buffett's presence in New York was a follow-up to a dinner held in Omaha last November. Events in the two locales resulted in a combined total of over $210 million in Israel bond investments and indications to invest.
Additionally, participants were given a private tour of the World Trade Center complex, hosted by Larry Silverstein, founder and chairman of Silverstein Properties and developer of One World Trade Center. Tour participants included Israel's UN Ambassador Danny Danon.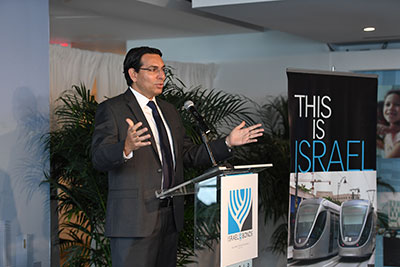 UN Ambassador Danny Danon speaks during a visit to the
World Trade Center, hosted by Larry Silverstein
Buffett's New York appearance on behalf of Israel Bonds generated global media coverage. It also trended extensively on Twitter and other social media.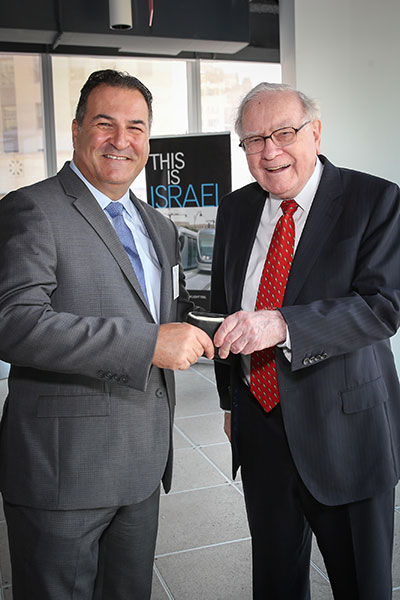 Bonds President & CEO Israel Maimon and Warren Buffett engage in
a friendly tussle over the famed investor's wallet
Photos: Shahar Azran/Mark Von Holden