Bobbie Goldstein: "I Instantly Knew I Would Never Be the Same"
Longtime Israel Bonds advocate Bobbie Goldstein explains how it all began. "I did not grow up with a Zionist background, and only started to understand the importance of Israel as it subtlely became a part of my life."
In sharing how her commitment took shape, Bobbie emphasizes, "I am, and will forever be, grateful to Israel Bonds for pointing the way to Israel and my Zionist involvement."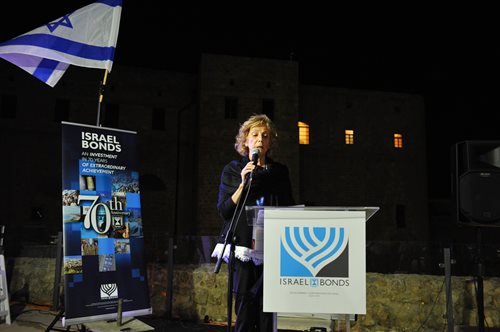 Bobbie Goldstein officially convenes the Israel Bonds 70th anniversary delegation at the opening dinner in Akko (Photo: Doron Golan)
 That involvement happened "almost by accident. I did not know how to say 'no,' so when approached to become a part of the Israel Bonds Women's Division in Rockland County, I found myself saying 'yes.' Then I began to wonder, what would I do? I was afraid to speak up, or speak in public, so I agreed to address envelopes for invitations."
Then came Bobbie's first trip to Israel as a member of a Bonds delegation. "Standing before the Kotel for the first time," she recalls, "I had an epiphany. I instantly knew I would never be the same.  Israel was now a part of my life, and would remain so forever."
For Bobbie, each subsequent visit – she calculates she and husband Marty have been to Israel more than 60 times –"helped create new awareness not only of Israel, but of Israel Bonds."
Her initial hesitation gone, Bobbie assumed a number of Bonds leadership roles in Rockland County, and subsequently rose to prominence on the national level. "I was honored to serve as National Women's Division chair and ultimately national chair." She is particularly proud of her current leadership role as the Israel Bonds liaison to the Conference of Presidents of Major Jewish Organizations.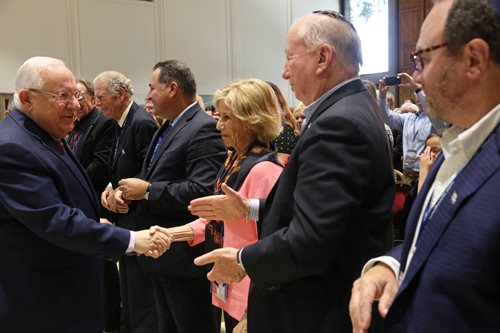 Greeting Israeli President Reuven Rivlin at his official Jerusalem residence (Photo: Gideon Markowitz)
 Bobbie is in awe of the men and women whom she views as legends of Israel Bonds. "Imagine," she says, "meeting with incredible Bonds leaders Sam Rothberg, Alice Peerce, Sol Volchok, Ira Miller and so many more, including Roberta Peters, who sang for us in Israel."
Her time in Israel has encompassed a multitude of highpoints, and Bobbie shares some of her most memorable. "The intensity of traveling to Israel during the Gulf War and being handed a gas mask. The deeply moving moment of greeting a planeload of Russian immigrants, and watching as a 70-year-old man escorted his mother off the plane to set foot in the Promised Land. The extraordinary opportunity to confer with so many presidents and prime ministers of the Jewish state. Being in Israel for its 50th, 60th and 70th anniversaries, and feeling privileged to have witnessed these milestones in my lifetime."
In reflecting on the Bonds 70th anniversary delegation – which she chaired – Bobbie feels "being a part of this special occasion brought my Israel Bonds experience full circle. I remember traveling on dirt roads from one part of the country to the other years ago. Today, a nation that didn't have a fully developed road system is now a high-tech powerhouse that shares its gifts of knowledge and innovation with the world. I am amazed at the way in which Israel overcame so much challenge and adversity to become one of the most admired nations in the world."
Bobbie expresses the hope that her personal narrative "will inspire young Jewish leaders to become part of Israel's ongoing success story through their own involvement with Israel Bonds."
Contemplating her remarkable Israel Bonds saga, Bobbie marvels, "It all started with addressing envelopes. I would have never, in my wildest dreams, thought that some 40 years ago, when I was addressing those envelopes that this one small act would lead to the journey of a lifetime."
Marketingmitteilung
Sie konnten Ihr Kapital riskieren.