Burt Herbstman, MD: "The World is a Better Place Because of Israel"
For Chicago's Burt Herbstman, MD, love of Israel was instilled at an early age. "My parents always spoke about Israel," he recalls. "They were very Zionistic."
When he turned 13, Burt's parents sent him to Camp Alonei Yitzhak in Israel – the first of more than two dozen trips to the Jewish state - as a bar mitzvah present. That summer visit made an indelible impression on Burt and, from that moment on, "I was a champion for Israel."
His pro-Israel advocacy ramped up upon entering college, where he became president of both American Students for Israel and the Jewish fraternity AEPi.
Burt's affinity for Israel led him to Israel Bonds. His introduction to the organization came via the Cotillion Ball, sponsored by Israel Bonds Chicago, where he brought his then-16 year old daughter Lynn, together with the rest of his family. He brought his two other daughters, Diane and Teri, to subsequent Cotillion Balls.
He remembers the Cotillion Ball as "a great tradition in Chicago, not only enabling young Jewish girls and boys to become acquainted, but also preparing them to become active on behalf of Israel as members of a new generation of supporters."
Burt cites l'dor vador – from generation to generation – as a motivational factor in his efforts on behalf of the Jewish state. "Helene and I strive to inspire the next generation on the importance of a strong, prosperous nation of Israel, now and forever," he says.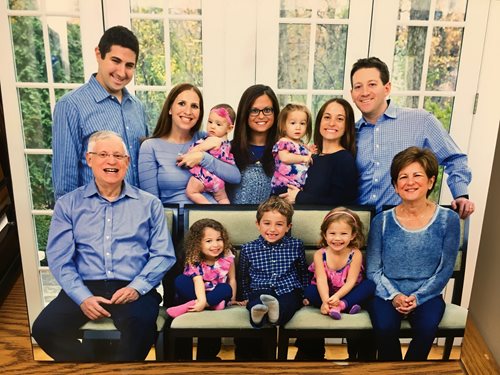 L'dor vador: Burt and Helene Herbstman with current and future generations of Israel Bonds supporters
He takes pride in the fact that "We have accomplished this meaningful objective within our own family. My wife Helene and I are on the Israel Bonds national board of directors. Our daughters Lynn, Diane and Teri are all Zionists who actively support Israel, and Teri is also Israel Bonds New Leadership chair in Chicago." He notes that his son-in-law, Adam Grossman, is assistant director for the Israel Bonds Midwest region, and another son-in-law, Jonathan Welbel, is involved with numerous Jewish organizations.
Together with Helene and Teri, Burt was a participant on the April Israel Bonds delegation celebrating Israel's 70th anniversary. "We were able to go to Israel with fellow Bonds supporters from all over the world and share a common appreciation for Israel," he says with pride.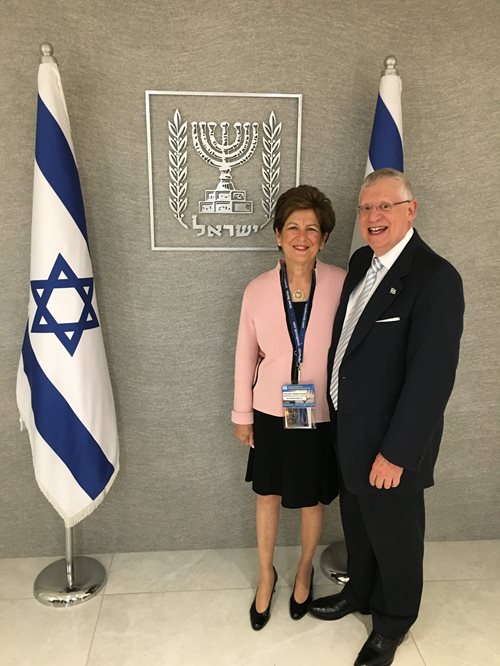 Helene and Burt Herbstman, MD at Beit HaNassi, official residence of the President of Israel, during the Bonds 70th anniversary delegation
In reflecting on Israel's seven decades of triumph, Burt comments, "On every trip, what amazes me the most are the Israeli people and what they have accomplished. Modern day Israel has realized so much in the last 70 years."
He cites an achievement especially meaningful to him: "I am especially proud that Israel has been able to absorb millions of immigrants from all over the world, and make them productive members of Israeli society."
A prominent cardiologist, Burt is already looking forward to his next visit to Israel, the Israel Bonds biennial Maimonides medical delegation, taking place in March 2019. In noting that this will be the fifth Maimonides delegation he will co-chair, Burt states, "We have had the privilege and opportunity to meet with Israeli physicians and scientists who are at the forefront of amazing medical and scientific discoveries, who then share these discoveries with the entire world. And," he asserts emphatically, "the world is a better place because of Israel."
Photos: Burton L. Herbstman, MD
Marketingmitteilung
Sie konnten Ihr Kapital riskieren.