Jennifer Meyers: "Israel Impacted Me Forever"
Since traveling to Israel for the first time on a study abroad mission in 1994, Los Angeles realtor Jennifer Meyers affirms the country has had a special place in her heart. After living there for more than two months and exploring the Jewish homeland with over 120 other Americans, many of whom became lifelong friends, she describes the journey as "one of the most incredible experiences of my life," and refers to the nation as "magical," emphasizing, "Israel impacted me forever."
Upon returning to America, Jennifer was contacted by her local Jewish Federation in Rockville, MD and was asked to speak about her time in Israel and the remote study program with Alexander Muss High School in Israel at the Embassy of Israel in Washington, D.C. Beaming with pride, she gladly accepted and went on to share her heartfelt story with a crowd of over 1,000 people, inspiring the room with her profound emotion and strong connection to the Jewish State.
Anticipating her return to Israel, Jennifer was delighted when Israel Bonds Los Angeles New Leadership Division selected her to represent the group on the organization's International Delegation, as commemorating the nation's 70th anniversary would be a most celebratory time. Jennifer remarks, "When you are in Israel, you just feel this magic that quite frankly I've never experienced anywhere else in my life. After 24 long years I finally went back with Israel Bonds for Israel's 70th."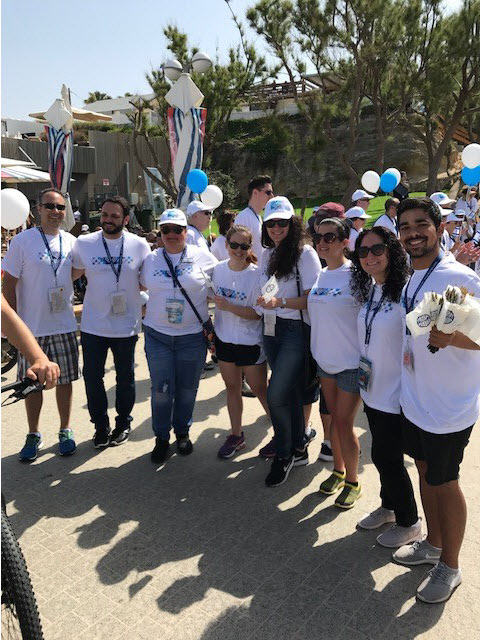 Jennifer celebrates Israel's 70th anniversary with fellow Bonds delegation participants from around the world
When Israel Bonds Los Angeles created its New Leadership Division four years ago, Jennifer became involved as a committee member and continues to be ubiquitous throughout the Los Angeles Jewish community, encouraging support for the Bonds mission. She represented Bonds Los Angeles' New Leadership on this "trip of a lifetime" with the Bonds enterprise, and with exuberant pride states, "I would of never had these experiences just going to Israel on my own."
Meeting 200 fellow participants from all over the world was a highlight for Jennifer, as she formed deep connections with many of these individuals who share a love for Israel and advocate for the Bonds program.  Jennifer recounts how moved she was by the places she visited while on the delegation during Yom HaZikaron and Yom Ha'atzmaut, especially honoring the fallen soldiers of the IDF as she stood in silence upon the sounding of the siren that echoes for miles across the country. She exclaims, "Jews from all over the world come to Israel and it's so important we have Israel as our homeland. I have heard so many stories of Jews having to leave their countries, then touching down in Israel and kissing the ground. It gives me the chills and makes me so passionate about Israel that we have a place to go."
Jennifer proclaims, "I was beyond mesmerized with what Israel has done and the growth I saw when I was there in April," adding, "It's so impressive a country 70 years young and the size of New Jersey would have the most start-up tech companies in the world. Going to the naval base and the port was amazing, seeing the new train station that will run from Jerusalem to Tel Aviv, eating the divine food in Israel, celebrating Israel's 70th in Tel Aviv, seeing the air show from the rooftop of the Hilton in Tel Aviv, listening to Ambassador Danny Danon and other ambassadors he brought to speak at the air show was so inspiring." She elaborates, "Israel is truly a remarkable country and has done and continues to do so much for the world on a daily basis. I can't wait to go back!"
Upon her visit to the Kotel, she felt honored to place over 40 notes in the Wall for members of her family and friends, and has already been told that some of the wishes inscribed on their notes have since come true, including some of her own. Jennifer attests, "Jerusalem is such a powerful, spiritual place."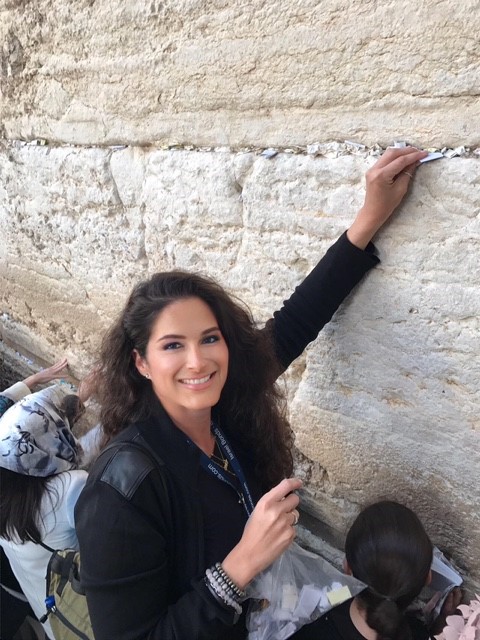 Jennifer places notes from family and friends, including her own, into the Kotel
Photos: Jennifer Meyers
Marketingmitteilung
Sie konnten Ihr Kapital riskieren.