My best vacation in Israel
By Lisette Bengio from our office in Paris, France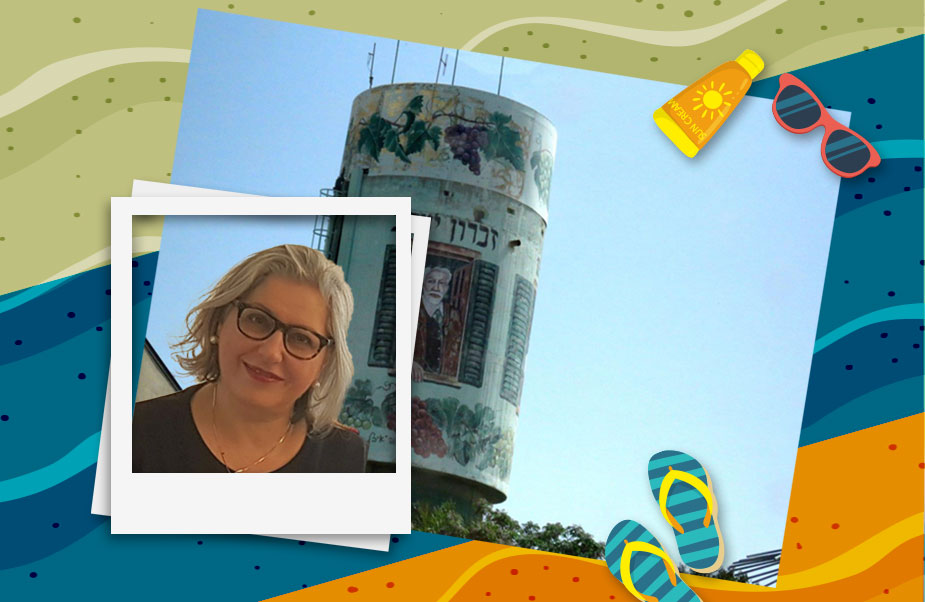 Graphic items Designed by Freepik

"I can't forget the amazing taste of good vegetables and fruits grown nearby in kibbutzim and moshavim since this region is also one of the jewels of Israeli agriculture."
I chose to tell you about Zichron Ya'acov, because that's where I had the chance to spend my school holidays with my dear maternal grandparents, Solange and David. They had lived there since 1959, as soon as they arrived in Israel from Morocco.
Zichron Ya'acov is a small, magical town in the heights of Caesarea on Mount Carmel, with breathtaking views of the green hills and close to one of Israel's most beautiful beaches, the Tantura beach.
The climate is so pleasant that, during the evening, the freshness settles in and attracts people for walks in the alleys scented by the flowers that are reminiscent of Provence. Visits to art workshops of all kinds are also a must.
This region is well known for its vineyards; it has been producing good wines for several decades, with the evocative names of Carmel, Binyamina, and Tishbi. Now, Zichron Ya'acov is listed on the Wine Route as an essential place for discovery and tasting. The casks themselves are an integral part of the landscape and can be seen in hotels, restaurants, and merchant establishments.
At that time, I did not drink these wines because I was very young, but I did not forget their perfume. In terms of foods and flavours, I keep the good memories of the roasted corn that we ate on the beach, with watermelon to cool off. I can't forget the amazing taste of good vegetables and fruits grown nearby in kibbutzim and moshavim since this region is also one of the jewels of Israeli agriculture.
Every time I'm in Israel, I can't wait to visit Zichron Ya'akov, with my husband and children, for a walk, lunch, pilgrimage and to share fond memories of my past holidays.
Photo courtesy of Lisette Bengio