Adrian Grant: "Each Visit Restores My Jewish Soul"
"Israel was always an important part of my life," says Atlanta's Adrian Grant. Growing up, he remembers, "My parents taught me love for Israel at a young age."
When he finally made his first visit to Israel, it was a profoundly emotional experience. "I felt," he explains, "like I had come home."
Adrian was particularly impressed with the vast scope of Israel's history, as well as the country's extensive development. He has returned to Israel several more times since that formative first trip, and, he says, "I feel that each visit restores my Jewish soul."
In April, Adrian went on his most momentous journey to Israel as a member of the Israel Bonds international 70th anniversary delegation. "It was," he says, "such a memorable week to be in Israel. I was so impressed with all of the country's accomplishments, especially the determined way in which Israel has successfully overcome challenge and adversity."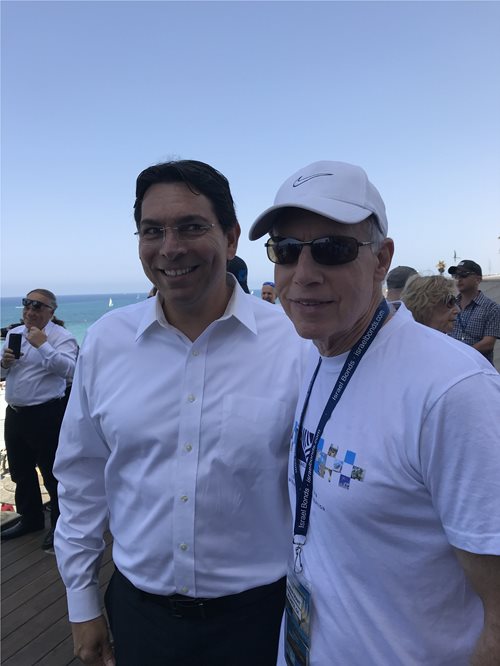 Adrian Grant and Israel's UN Ambassador Danny Danon celebrate Yom Ha'atzmaut in Tel Aviv
A singular highlight for Adrian was the global composition of the delegation. "It was very special to be part of an international delegation and meet so many people from all over the world who share my passion for Israel."
Now 70 – the "the same age as Israel," he points out – Adrian channels his enthusiasm for the Jewish state into involvement with a number of Israel-related organizations, particularly Israel Bonds. A member of the national board of directors, Adrian first got involved when he was asked to serve on the local board of Israel Bonds in Atlanta.

He subsequently served as chairman of the Atlanta board, and today, Adrian remains active on both the local and national boards
Ilene and Adrian Grant at the official residence of Israeli President Reuven Rivlin during the Israel Bonds 70th anniversary delegation
Adrian takes particular pride in supporting Israel on an individual basis through purchases of Israel bonds. Recalling how impressed he was on his first journey to the Jewish homeland, Adrian feels that acquiring Israel bonds is "a personal investment in the development of Israel."
Photos: Yossi Zamir
Marketingmitteilung
Sie konnten Ihr Kapital riskieren.