Exploring 'Israel's Biggest Infrastructure Project of All Time,' 82 Feet Below Street Level
By James S. Galfund
In convening the Israel Bonds founding conference at Jerusalem's King David Hotel in September 1950, Prime Minister David Ben-Gurion assured assembled delegates of "a much brighter future that is not far away."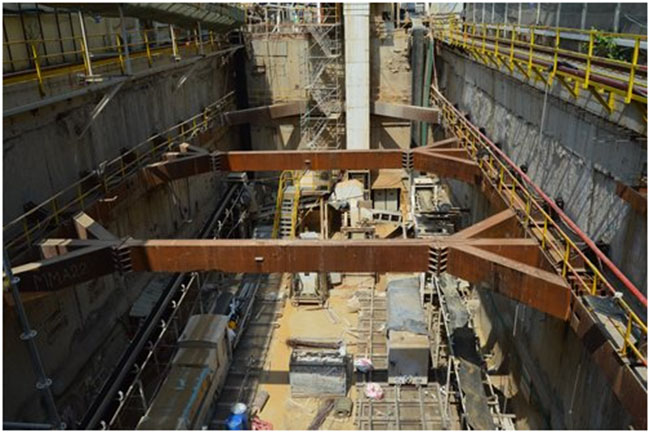 Looking down at the Allenby Street construction site, 82 feet below ground level
Arriving in Israel in July as a representative of Development Corporation for Israel/Israel Bonds, I embarked on a quest to uncover the myriad ways in which Ben-Gurion's vow achieved fruition.
 
My journey of discovery began with a look at the progress of the Tel Aviv Metropolitan Mass Transit System. For residents of the traffic-choked region who have endlessly sought a better way, Ben-Gurion's promised "brighter future" has been long in coming. 
Overcoming Skepticism
 
Now, however, relief is finally in sight. Construction of the Red Line, the first phase of an ambitious transportation project that one day will be part of a sophisticated network of above-and-below ground rail lines, commenced August 2015 and is scheduled for completion by October 2021.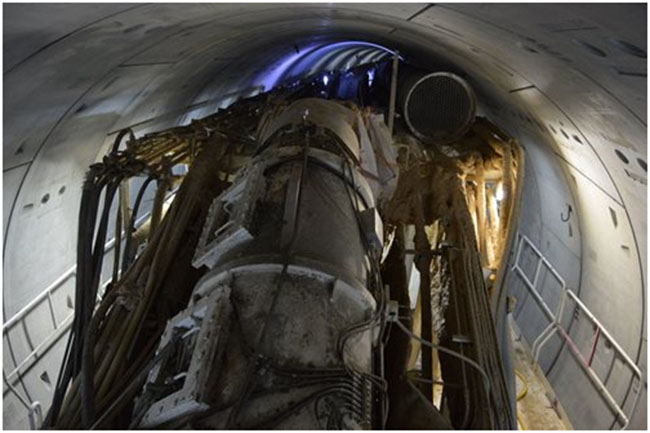 A massive 1,800-ton boring machine excavates a Red Line tunnel 
GalitPorat, spokesperson forNTA – the government-owned company responsible for the design and construction of the system – describes initial reactionto the announcement as "pessimistic." After all, plans for a rail line – some of which never got off the ground, while others were partially implemented and subsequently abandoned – were floated as far back as 1892, long before the establishment of Israel, or, for that matter, Tel Aviv.
 
No wonder then, that Porat emphasizes that "communication with the public was very important. It was very strict company policy to answer every question or complaint, and offer solutions if possible." She explains CEO Yehuda Bar-On "was committed, from the very beginning, to the October 2021 deadline," which, Porat confirms, "is progressing on schedule."
 
"Israel's Biggest Infrastructure Project of All Time"
 
Of course, mollifying a skeptical public was only one aspect of embarking on what Porat terms "Israel's biggest infrastructure project of all time," one that will ultimately employ the skill sets of over 10,000 people.
 
Considering the sheer scope of the initiative, the NTA published international open tenders for contractors and consultants to tap into their knowledge base and solicit their participation. Companies from countries including Canada, China, France, Germany, Italy, the UK and the U.S. are currently involved in the project.
 
With 34 stations, 10 of which will be below ground, the Red Line is projected to cost $4.34 billion, due in part to unique challenges inherent in constructing tunnels in close proximity to the Mediterranean Sea. Unlike the Tel Aviv – Jerusalem fast rail, which entailed digging through hilly, rocky terrain, engineers in Tel Aviv had to tackle sand and water. Porat says wet sand makes it "easy to excavate but hard to stabilize, and we've had to cope with a lot of water at every worksite." At one point, she relates, scuba divers were sent in to cast a concrete floor when the shaft was covered by water.
 
A more conventional approach was the utilization of massive tunnel boring machines, each stretching nearly 500 feet in length and weighing 1,800 tons. Eight were used in the excavation of Red Line tunnels.
82 Feet Below Street Level
Now, it was time for a look. Hardhat firmly affixed, I follow Porat down into the Allenby Street tunnel, part of a continuous 7-mile underground stretch of the Red Line's nearly 15-mile length.
Before descending, I glance up at a mural of Theodor Herzl looking down on the site.  His watchful gaze seemed appropriate, since the Tel Aviv mass transit project, is, in its own way, like another manifestation of Herzl's famous prophecy, "If you will it, it is no dream."
Eighty-two feet below street level, the site buzzes with activity. The banging of tools and hum of machinery echo throughout the tunnel. Sparks fly from acetylene torches. Seemingly endless quantities of sand are efficiently removed. Workers of various nationalities are busily excavating tunnels and constructing stations. "It's exciting," observes Porat, "to see how they work together."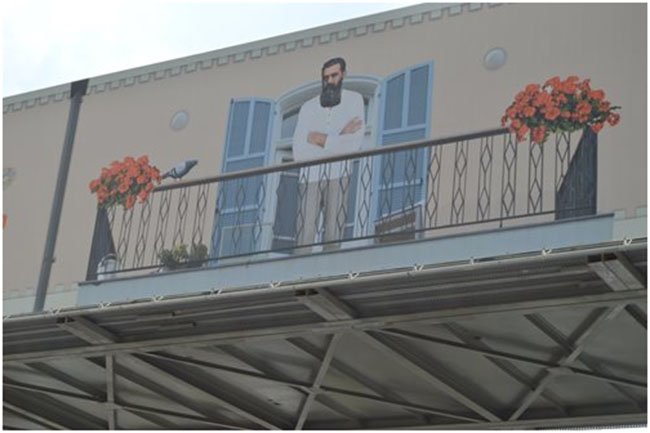 "If you will it, it is no dream" – a watchful Theodor Herzl gazes down on a Red Line
construction site, the culmination of over 100 years of searching for transportation
solutions in Tel Aviv    
"It will Change the Lives of Many People"
When the Red Line opens, it will be a transformative moment for the Greater Tel Aviv region. It is projected 70 million people will utilize the system annually, with daily ridership approaching a quarter of a million passengers. Trains over 55 feet long, with a 450-person capacity, will stop at stations every 3-5 minutes, depending on the time of day. It's estimated the Red Line will inspire between 80,000-100,000 liberated drivers to leave their cars behind.
Porat asserts the project will have a positive impact not only on transportation, but also "urban development and lifestyle," noting the large number of commercial projects being built all along the line.
She says this initial success has prompted authorization for construction of the next phase of the master plan, the purple and green lines, budgeted at a combined $8 billion.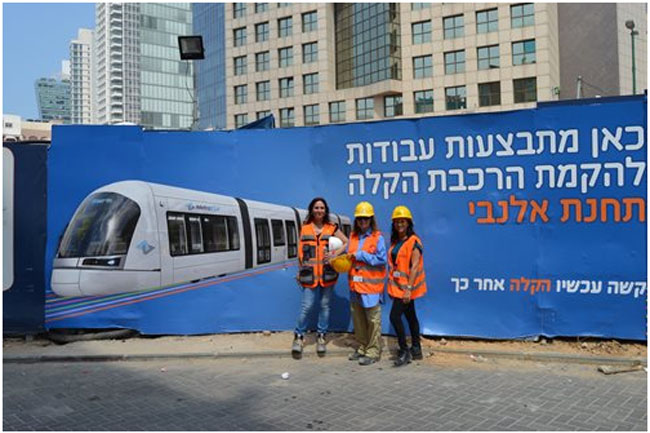 From left: NTA Spokesperson GalitPorat, visitor Diana Shoemaker and Israel Bonds
International Business Development Director Sara Friedman next to a sign promising
better days ahead 
Porat tells a story about Meir Dizengoff, first mayor of Tel Aviv, who would often be seen riding his horse down the streets of the new city. When asked about building a tram, Porat relates, Dizengoff dismissed the notion, saying a cultural center would better serve the city's needs.
More than a century after Dizengoff's brushoff, Tel Aviv abounds in cultural centers. And soon, it will also have a state-of-the-art transportation system. When that happens, Porat predicts confidently, "It will change the lives of many people."
And with that, phase one of my Israel Bonds journey of discovery was complete.
Photos: James S. Galfund