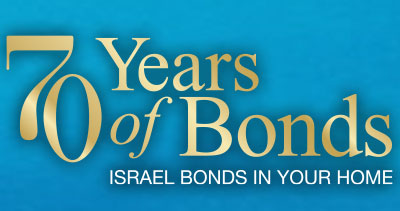 70 Years of Bonds - Past Events
Feb 18, 2021
Dr. Elvira Grözinger

For the first local online event of Israel Bonds Germany in 2021, we were happy to welcome Dr. Elvira Grözinger, from the organization "Scholars for Peace in the Middle East" on February 18th. Over sixty friends and supporters of Israel Bonds Germany attended her talk,From the Atlas Mountains to the Persian Gulf: The Exodus of the Jews from the Muslim Countries,in which she gave an overview of the expulsion of the Jews from Muslim countries after the founding of the State of Israel.
With her detailed knowledge, she took her listeners back in time to Egypt, Syria, Morocco, Iraq, and Iran to describe the situation and daily life of Jewish communities under Muslim rule before 1948. Since Dr. Grözinger is a literary scholar, she used excerpts from contemporary literary texts by Arab Jews to illustrate the world in which they lived. She described a rich Jewish culture with a long history and specific traditions. But life was not always as peaceful as imagined. There were pogroms and attacks on Jewish institutions, and Jews did not enjoy the same rights as their Muslim fellow citizens.
Dr. Grözinger went on to depict the deterioration of the situation after Israel was founded in 1948. The persecution of Jews in their home countries worsened, and many were forced to leave everything behind and flee. A lot of them came to the newly founded Jewish state; others migrated to the U.S.A. and Canada. Nowadays, in countries like Syria, which used to have a flourishing Jewish life, every sign of this population segment has been eradicated.
In the question-and-answer session following the talk, participants were interested to know Dr. Grözinger´s opinion on the Abraham Accords that Israel has signed with Muslim countries. Other questions related to the continuous use of Farsi and other languages by Arabic Jews in Israel. The positive feedback from the participants demonstrated the appeal of Dr. Grözinger's presentation style as well as the high interest in this often-neglected area of Jewish history.
Jan 26, 2021
Dr. Susanna Kokkonen 

On the 26 th of December, to commemorate Holocaust Memorial Day, Israel Bonds UK was delighted to welcome guest speaker Dr. Susanna Kokkonen, who served as Director of Christian Friends of Yad Vashem in Jerusalem.
This event was chaired by Barbara Dingle, a member of UK's Voluntary Campaign Council of Israel Bonds, and hosted by Israel Bonds' Christian Division, which consists of a group of dynamic and passionate people who volunteer to bring topical and interesting content to our Christian and Jewish friends in support of the State of Israel.
Dr Kokkonen's insightful talk was particularly timely, given the current alarming rise of anti-Semitism in
recent years. To truly understand its roots, Dr. Kokkonen conducted her audience along a compelling
journey that traced the seeds of the world's "oldest hatred" to elements of scripture and followed the
growth of that malignancy through the ages to the twentieth century Holocaust.
Jan 20, 2021
Women's Division France Dr. Catherine Lacrosniere 
Our first event to begin our year of celebration for the 70th anniversary of Israel Bonds occurred on Wednesday, January 20, 2021, when Women's Division France organized a nutrition and health workshop led by Dr. Catherine Lacrosniere and Chef Ruben Sarfati. The event aimed to support Mazone, an organization that, for twenty-five years, has been providing food and personal support to people in need. Prior to the event, about twenty people demonstrated their support to Mazone by purchasing a Mazal Tov bond for the organization's benefit, and Israel Bonds France similarly supported the organization.

Excellent publicity resulted in a registration of 125 people for this event, with eighty-five in attendance.
Eric Bendriem, the president of Mazone, explained the importance of this operation and thanked Israel
Bonds for their support. The speakers were very engaging, and participants were not only enthusiastic
about the workshop, but also expressed their desire to help. In fact, ten additional attendees, anxious to
perform a double mitzvah, pledged to purchase Mazal Tov Bonds to support this worthy organization.
We were delighted by the success of this event, which resulted in many messages of thanks and
requests to repeat this initiative.
Jan 18, 2021
Lord Aaron Kenneth Ward-Atherton

On Monday, the 18th of January, the British Israel Chamber of Commerce and Israel Bonds invited Lord Aaron Kenneth Ward-Atherton to give us a little background into his career and life's work in homeopathic medicine.
Lord Ward-Atherton was joined by his colleague, Dr Menachem Oberbaum, of the Sha'arei T'zedek Medical Centre in Jerusalem, who spoke to us about his team's achievements in homeopathic remedies for severe COVID patients and the official trials that they are starting in trying to develop a homeopathic remedy for the worst-affected patients.
Over eighty-five people tuned in to the lunchtime talk to hear about Lord Ward-Atherton's work on
the "'New Horizons in Water Science' Evidence for Homeopathy?" seminar, which he arranged in
both the House of Lords and at The Royal Society of Medicine in July 2018.